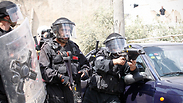 Israeli security forces in At-Tur
Photo: Noam Moskowitz
Five Israeli-Arabs involved in the creation of a terror network including dozens of residents of the At-Tur neighborhood in East Jerusalem were indicted Monday.

The suspects were charged with intentionally causing damage to a vehicle, rioting, an attempted aggravated assault of a policeman, negligent use of weapons and aggravated battery.

The suspects' terror activity included hurling Molotov cocktails, fireworks, stones and even explosives at security forces and houses in the neighborhood belonging to Jews.

A Shin Bet investigation was launched following an escalation in terror activity in the neighborhood, whose residents are all Israeli citizens.

The investigation found that a terror network operating the neighborhood was formed in July 2014 under the command of Fatah operative Marwan Khalil Jayousi, 23.

The members of the network were involved, among other things, in an attack on a police car that was dispersing a protest in the neighborhood in August 2014. The assault on the police car caused it to roll down into a valley, and its driver had to be rescued by his fellow policemen.

After Jayousi was arrested in September 2014, the terror network continued operating until January 2015 under the command of Bahar Amad al-Maghribi, 23, also a Fatah operative.

Al-Maghribi, the Shin Bet claimed, was also involved in the production of explosive devices and was in charge of funding the terror network's activity as well as supplying the neighborhood's residents with Molotov cocktails and fireworks.

The Shin Bet said that the suspects' violent activity could've resulted in the death or serious injury of civilians as well as security forces.