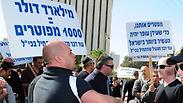 Negev workers protest wave of lay offs.
Photo: Herzel Yosef
Over 140 people are being laid off from Israel Chemicals' Bromine Compound factory in Israel's southern Negev region. The workers demonstrated against the wave of lay offs outside the corporation's headquarters Tuesday.

They were joined by workers from Dead Sea Works factory, which is also owned by Israel Chemicals, and whose workers are in the midst of negations with management in the hopes of preventing a massive wave of lay offs there as well.

Emil Freija, 65, has worked at Bromine Compounds for over 45 years: "I have been named worker of the year three times, I have been chosen as the corporation's top worker three times and have worked under six director-generals.

"It used to feel like a family-run factory. Instead of getting a watch as a gift for 40 years of hard work, they give me my walking papers," he said.

Head of Dead Sea Works' union, Edmond Lankri, says the workers are not against change or efficiency, but that as the largest employer in the region, Israel Chemicals has a responsibility towards its workers.

"Are there other places to work in the Negev?," Lankri asks rhetorically, explaining that his daughter is among those being laid off from the bromine factory. "These are not workers who are doing a bad job. These are people with three or four kids, a mortgage, debts. Where will they work?"

Avner Ben Senyor, head of the Bromine Compounds union, adds that "this is a fight for our home. We will not allow them to let them fire anyone," he says defiantly.

"We're not against increased efficiency. We're for it and wherever we can we will make changes. But that doesn't mean cutting workers. This is not just the factory, there are thousands of people making a living from all of these factories," he said in reference to Israel Chemicals' fleet of factories in Israel's south.

Workers claim the corporation is being 'greedy,' citing a new report regarding the state of it finances, which claims the corporation's profits are high, and that the bromine industry is still lucrative. They say that the report also notes that dividends and CEO pay has also shot up.
Region under economic attack
The Bromine Compound's story joins a long list of factories shutting down or downsizing their operations in Israel's Negev – a vast desert region dotted with communities and factories with much potential but few employment opportunities.

With an unemployment rate 2-3 times higher than the rest of country, currently at 6.5 according to state data, the closing of a factory like Bromine Compounds could be a death blow to some.

"Sadly, the struggle will only get worse. The management is bent on firing workers, who must foot the bill for the long strike as management tries to break them. But they won't succeed," he said.

Local mayors also voiced concern, saying that the state should intervene as the Israel Chemicals corporation's activities are based on national resources which over the years have been privatized.

"The State of Israel has a responsibility towards the Negev and its residents. These are resources that belong to the state. I call on the management of Israel Chemicals to act wisely. Instead of investing in Israel and the Negev they invest in new factories abroad," one mayor said.

Over 240 workers have been fired in the past year from Negev-region factories and over 1,000 are at risk of losing their jobs as such factories and businesses shut down.

Israel Chemicals said in response that the factory "is dealing with the fallout of a crisis in the international market for bromine compounds and fire retardant chemicals. Despite investing over a billion and a half shekels in recent years, the factory is not profitable, inefficient and uncompetitive, a situation further strained by high a number of workers with a high salary, which is among the highest in the industry around the world. We call on the workers' union to act responsibly and stop sabotaging the efforts to increase efficiency."

According to the management's statement, the average salary in the factory is roughly NIS 40,000 a month, almost 8 times higher than the national minimum wage.

Telem Yahav and Matan Tzuri contributed to this report.