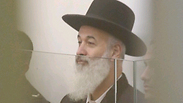 Rabbi Yona Metzger
Photo: Motti Kimchi
The state has filed an indictment against Rabbi Yona Metzger, former Ashkenazi Chief Rabbi, for bribery, fraud, money laundering and other crimes.

Rabbi Metzger is suspected of accepting NIS 10 million in bribes, of which he personally pocketed NIS 7 million. A state witness aided the investigation carried out against the rabbi and recorded him in conversations. The indictment follows a recommendation by the police and the attorney general.

The rabbi is being indicted for corruption and receiving illicit donations valued at millions of shekels in exchange for services he conducted as part of his role as chief rabbi. Metzger has been informed of the indictment.

According to the suspicion, Rabbi Metzger used his driver Haim Eisensdadt as his cash courier for financial offenses. Police suspect Rabbi Metzger gave his drive 10 percent of the bribes he received.

According a letter sent to the Rabbi's lawyers, Metzger recieved pocketed financial benefits from business moguls that hoped to convert to Judiasm.

In one case cited as an example, a Russian businessman turned to Metzger in 2011 and asked the rabbi to help convert his son and daughter. Metzger referred him to his confidant, a Rabbi living abroad, who received $360,000 for the conversion. It is suspected that Rabbi Metzger received half of the amount paid to the foreign rabbi, $18,000.

Exactly a year ago, the police recommended indicting Metzger for bribery, fraud, money laundering and other crimes. The decision then moved to Attorney General Yehuda Weinstein, who also recommended an indictment.

"The investigation painted a clear picture according to which (Metzger) received bribes and illicit funds for years in exchange to using his position and influence over issues like donations, giur (conversion to Judaism), rabbi appointments as well as ties with business moguls in exchange for personal gain," the indictment read.

The police investigation showed that millions of shekels in donations were allegedly transferred to non-profit organizations connected to the rabbi.

The investigation also showed that Metzger used part of those funds for his personal needs, and additional funds were accumulated as bribes for decisions that he made as chief rabbi of Israel.