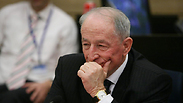 Attorney General Yehuda Weinstein
Photo: Gil Yohanan
Attorney General Yehuda Weinstein rejected on Wednesday a petition by Meretz asking not to broadcast Prime Minister Benjamin Netanyahu's Congress speech on March 3 in Israel, saying it was forbidden election propaganda.

Weinstein rejected the petition filed to the Central Election Committee, stating the speech's topic is a current and controversial issue and noting that in the past, election committees have made a distinction between dealing with legitimate and current issues - such as the Iranian nuclear threat - to election propaganda.

The attorney general stated that there should be an examination of whether the broadcast is newsworthy or propagandic in nature based on its expected influence on the common viewer or listener.

Weinstein noted that according to his assessment, the speech is an event clearly newsworthy in nature, which has a dominant current and newsworthy effect. This is why, the attorney general wrote, when examining the future broadcast, it cannot be viewed as election propaganda in a way that would theoretically support the barring of the broadcast.

The attorney general also noted that the Iranian nuclear negotiations are conducted on an external timetable and that the speech will touch upon important issues concerning Israel's foreign policy, which are of great interest to the public.

He added the speech was directly connected to the prime minister's work and it is not possible to determine in advance whether or not it will be considered forbidden election propaganda.

In addition, the attorney general stated, one of the roles of the media was to provide an immediate and up-to-date report of the day's events to the public, which makes the dominant meaning of the broadcast newsworthy and legitimate, and not propagandic in nature.

Finally, Weinstein said Netanyahu was given detailed legal guidance from the PMO's legal office so his speech won't include election propaganda.