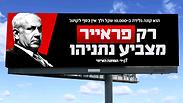 Zionist Camp anti-Netanyahu billboard
Following recent complaints by prominent activists within the Zionist Camp that the party has no real election campaign, a new campaign was launched on Wednesday under the slogan "Only a sucker votes Netanyahu."
Sources in the party headquarters said Tuesday night that they had considered dismissing the public relations firm in charge of the campaign, Peer Levin PR, but Zionist Camp Chairman Isaac Herzog denied the claim.
However, sources said the firm had been pushed to the sidelines of the campaign, despite remaining on the team.
A senior official in the Zionist Camp's elections headquarters criticized the campaign: "We're weak on the campaign and very strong in the field. We need to reorganize things and strengthen our public relations campaign."
The campaign launched on Wednesday morning by the Zionist Camp emphasized what the party considers to be Prime Minister Benjamin Netanyahu's failures. "One out of every three children in Israel is hungry, and he is buying breakfast for 20,000 shekels," read one billboard.
Another ad attacked Netanyahu performance on issues of security: "15 years of Qassams on the Gaza border communities, and he's only strong on slogans."
Yet another said: "He buys 10,000 shekels worth of ice cream, and you don't have money for cottage cheese."
These slogans and others will be part of the new campaign by the Zionist Camp's youth wing under the banner "Only a sucker votes Netanyahu". The campaign is to appear on social media, billboards, and other locations that have yet to be revealed.
The youth wing's headquarters released the following statement: "Netanyahu, over six years you turned us into hopeless people willing to merely survive and not live, into frightened people who are willing to buy into stories and scare tactics, into weak people willing to accept the status quo.
"Just tired people willing to surrender to reality, and just defeated people who don't fight to get what they deserve; but we are done being like that. We are done being your punching bag; in these elections – we are no suckers."