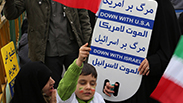 Down with Israel
Photo: AFP
TEHRAN - Iran marked the anniversary of its 1979 Islamic Revolution on Wednesday with massive rallies, with many chanting against the US and Israel as the country tries to reach a permanent deal with world powers over its contested nuclear program.

Thousands of people gathered in the capital Tehran and other cities across Iran, with some calling "Down with America" and "Death to Israel." State television aired footage of these commemorations.

Iranian President Hassan Rouhani, addressing a crowd of thousands in Tehran, pledged to "spare no effort" to protect the Islamic Republic's rights as it negotiates.



"The sanctions have not forced Iran to enter the talks but the impracticality of the all-out pressures on Iran and the significant advancements in Iran's peaceful nuclear program made the United States come to the negotiation table," Rouhani said. "Iran is seeking a 'win-win' outcome in the nuclear talks with world powers."

Tayyebeh Ahmadi, a woman who attended the rally, said the nuclear talks likely inspired Iranians to take part in commemorations.

"This year, we have turned out bigger than before because of the ongoing nuclear talks to make America understand that it cannot achieve its goals in these talks," Ahmadi said.

In recent years, Iran has used the anniversary of the Islamic Revolution to demonstrate against the West over its sanctions for the country's disputed nuclear program. The West fears Iran's nuclear program could allow it to build nuclear weapons. Iran says its nuclear program is only for peaceful purposes, like power generation and medical research.

Iran reached an interim, one-year deal with the US, Russia, China, Britain, France and Germany in November 2013 to freeze its nuclear program in exchange for the easing of some sanctions. Negotiators later agreed to extend talks until June 30, with hopes of reaching a rough deal in March.

Wednesday's events commemorate February 11, 1979, when followers of Ayatollah Ruhollah Khomeini ousted US-backed Shah Reza Pahlavi. America helped orchestrate the 1953 coup that overthrew Iran's popularly elected prime minister, Mohammad Mossadegh, which brought Pahlavi to power and set the stage for decades of mistrust between the countries.