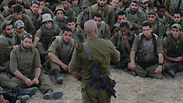 Golani troops (illustration)
Photo: IDF Spokesman
Soldiers at the Golani Brigade training base in Regavim have filed complaints against their company commander, citing incidents of abuse and severe violence.
"During a run, one of the soldiers was struggling physically and collapsed," a soldier from the company said. "The company commander approached him, punched him in the face, knocked him to the floor and even broke his glasses."
In another incident, the company commander violently attacked another soldier who also asked to rest for a moment during a training exercise. According to the soldiers, the company commander threw the trainee to the floor, punched him repeatedly and dragged him through the mud.
Parents of soldiers serving in the company were shocked on Tuesday to hear about the incidents. "If it turns out that the company commander acted violently, he should be tried and thrown out of the army," said the mother of a soldier in the company.
"I expect the commander of the training base and the brigade commander to look into the incidents and, if need be, impose a severe punishment," added one of the fathers.
According to a statement from the IDF Spokesman's Office, "The complaints against the company commander at the brigade's training base have been investigated by the base commander, and the brigade commander has also carried out a thorough probe into the matter. The brigade commander concluded that the company commander's conduct was unbecoming of an officer. In addition, the company commander was reprimanded by the brigade commander and will face a disciplinary hearing."