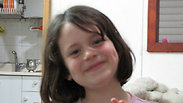 Hundreds of friends of Ayala Shapira, the 11-year-old girl who was seriously wounded after a Molotov cocktail was hurled at the car in which she and her father were traveling in the West Bank last December, urged United Nations Secretary-General Ban Ki-Moon in a letter to issue a harsh "condemnation against burners of children". The letter was sent to the UN Headquarters in New York, and to date, a response has yet to be received.
Shapira, who sustained third degree burns in the attack on December 25, 2014, remains sedated and on a respirator. In the letter sent to Ban, the AMIT Lehava Ulpana students, who go to school with Shapira, called on the UN to "speak out against these terrorists".
The letter detailed the attack on their friend: "Ayala, a descendant of Holocaust survivors…had just been coming back from a program for gifted students in mathematics and was on her way to celebrate a friend's Bat Mitzvah," they wrote. "Her life was cut short. A Molotov cocktail enflamed the car and Ayala was caught on fire. She was pulled out of the burning car by her father and is still hospitalized, sedated and intubated."
The students voiced their surprise at the fact that neither the United Nations nor the Secretary-General issued a condemnation of the incident. "Ignoring this violence means tacit support of this heinous act," they noted, adding that "it is our right to travel safely on the roads and go to classes and celebrations without fear of terrorists and murderers who seek to destroy us."
Israel's Ambassador to the United Nations, Ron Prosor, also recently called on the Secretary-General and the organization's bodies to speak out against the attack, claiming that "the wave of terrorism shows no sign of abating".
Shapira, he said, suffered "third-degree burns over much of her body and face and is, as we speak, fighting for her life in hospital. Does this disgusting attack on a child merit condemnation? Because I haven't heard one - not from the Palestinian leadership and not from this Council."
Prosor continued on to say: "If you oppose terrorism and you oppose oppression, then you must stand with the Middle East's only democracy. Tell the Palestinians that while we might have a territorial dispute, Israel's right to live in security is beyond dispute".