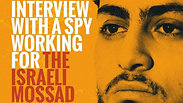 Alleged Israeli spy bares all in Islamic State interview.
The Islamic State group claimed on Thursday it was holding a Mossad spy captive, and published an interview with the alleged Israeli spy in the latest issue of the terror organization's magazine "Dabiq."

In the interview, the alleged spy Muhammad Said Ismail Musallam says he is 19-years-old, from Jerusalem, and was enlisted into the the Mossad by a Jewish neighbor who worked as a police officer.

"He came one day and asked me to work with Israeli intelligence," says Musallam in the interview. "I told him I would think about it, and then went and asked my father and brother what they thought. They both encouraged me to do it and told me that it was a very good job. They told me there was a lot of money in it, and that you could advance to higher positions. I knew at that point that they themselves were working as spies," says Musallam in the interview – its reliability unclear.

According to the young man, he later met with an intelligence officer by the name of Eli who told Musallam of the benefits and good conditions that came along with being a spy for the Mossad.

Musallam claimed that he was trained at 'Anatawt Training Camp in East Jerusalem and received NIS 5,000 for his participation in the course. He was later paid per mission and said, "In general, the pay would be proportional to the assignment and its level of importance, and the minimum would be 5,000 shekels. The bigger the assignment and the more valuable the information, the more they would pay me and the more bonuses I would receive."

Musallam says he received a month-long training on self-control and how to survive an interrogation. He also said he was trained to extract information and underwent weapons training.

After completing his training, Musallam was reportedly tasked with turning in weapons dealers, wanted individuals, and seeking out individuals who were attempting to infiltrate into Israel. He was also allegedly tasked with reporting to the Mossad about any operations planned to be carried out in Jerusalem.

After Musallam had worked as a spy for a while, another officer by the name of Miro offered him to go off on a mission to spy on the Islamic State group in Syria. "They offered me a monthly salary. They would also give me a house, and would take care of any issues I had and any documents I needed, as well as my living needs when I returned," said Musallam of the offer he was given by the alleged Israeli intelligence officer.

According to Musallam, the Mossad wanted him to report on the Islamic State group's weapons and rockets cache and their locations. He was also allegedly asked to pass on the locations of Islamic State bases in Syria and the names of Palestinians who left Palestinian territory and went to fight alongside the Islamic State group.

Musallam says in the interview that he entered Syria by way of Turkey with the help of a smuggler whom he contacted by phone.

According to the alleged spy, he was caught because he "began acting in a manner that was not typical of a muhajir despite the training (he) had received from the Mossad."

The alleged spy also says he failed to fulfill orders given to him by his "Amir" and then became worried that he would be monitored or punished. Out of fear, the young man called his father, who told his son to come home.

"But it was too late, as I was being watched. The mujahidin put me in prison, and moved me from one prison to another. During the interrogations, I confessed I was a spy working as an agent for the Israeli Mossad, and confessed to the things I had done in my country," says Musallam in the Islamic State group interview.

Israel has not acknowledged the report of the alleged Mossad spy and no statements have been released to confirm or deny the spy's identity as a former Jerusalem resident.