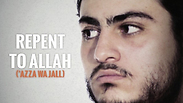 Muhammad Said Ismail Musallam in the IS magazine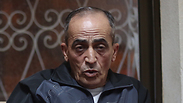 Said Musallam, Muhammad's father
Family members of Muhammad Said Ismail Musallam were surprised on Thursday to learn he was captured by the Islamic State in Syria and has been accused of being an agent of the Israeli Mossad spy agency.

Musallam's father, Said, denied his son was a spy, saying he went missing after traveling as a tourist to Turkey. Muhammad then phoned home, saying he had been abducted to neighboring Syria but could buy his way out, his father said.

"He said, 'Dad, I need $200 or $300 so they will let me go,'" Said Musallam told Reuters. Before he could send the money, he said, another man phoned to inform him Muhammad had escaped his captors but had been seized by the Islamic State group.

In an interview published by Islamic State's online English-language magazine Dabiq, Musallam said he had joined the insurgent group in Syria in order to report to the Israelis on its weapons caches, bases and Palestinian recruits.

After his conduct aroused the suspicion of Islamic State commanders, Musallam was quoted as saying he broke cover by phoning his father in East Jerusalem - leading to his capture.

"When I saw his picture today I was shocked," Ahmad, Muhammad's brother, told Ynet. "I saw how he looks with a beard and hair, if you had seen him before you'd understand he looks completely different."

According to Ahmad, his brother was an average 20-year-old that had no ties to Islam.

"He served in the fire department in East Jerusalem and three months ago he told us he had a firefighting course and that's why he'll be gone from home for a few days," Ahmad said. "After many days in which he did not make contact with us and we were searching for him, we turned to the police and it was then we learned there was no course organized by the fire department and that he actually went to Turkey without telling us."

The family didn't think much of Muhammad's trip to Turkey, thinking that he went on holiday, as he spent a week in Jordan recently, visiting with family there.

"After we found out he went to Turkey, he contacted us and said he was in Syria. He said people took him on a trip from Turkey and that he didn't know where in Syria he was," Ahmad said.

The last time Muhammad contacted the family was a month ago. "He contacted me through Facebook and told me he was in Syria, traveling, feeling good and that everything was okay," Ahmad said.

Ahmad said that the police were the first to offer the possibility that his brother had joined the Islamic State.

"My father and brother were questioned, but at first we didn't accept that theory. I know Muhammad, he would always post cartoons against Daesh," Ahmad said, using the Arab name for the radical Islamist group.

A friend of his who spoke to Reuters, however, said Musallam had posted pro-Islamic State messages on social media, but no social media accounts could be found under Musallam's name.

Eventually, the family realized Muhammad did indeed join the Islamic State, which caused his mother's health situation to deteriorate considerably, Ahmad said.

"In one of the last conversations we had, he said his passports were taken and he has no way to come back. My father tried to transfer money to him so he could return but he hasn't spoken to us since," he said.

The family, however, refuses to accept the claim Muhammad went to Syria as a spy and says he was kidnapped. "It can't be. He's a man that has no connections to these things," Ahmad said, but could not explain why his brother failed to inform the family he was going to Turkey and from there to Syria.

An Israeli security official said Musallam traveled to Turkey on October 24 in order to fight for the Islamic State in Syria.

"He went on his own initiative, without his family's knowledge," the official told Reuters. Asked whether his statement constituted a denial that Musallam was an Israeli spy, the official said: "You can understand it that way, yes."

"Now that we've seen the images of horror with the Jordanian pilot, we don't know what to do. I don't think he'll return to us," Ahmad said.

In recent weeks, the family tried to contact international organizations so they could help Muhammad in Syria. "They showed willingness to help and asked him to go to certain areas. We told him to do that but I guess he failed."
Porous border
Worried that members of its 20-percent Arab minority might travel to Syria or Iraq to join Islamist insurgent groups and then return radicalized and battle-ready, Israel has stepped up monitoring and prosecution of suspected would-be volunteers.

Turkey draws many Israeli Arab holidaymakers. It is also a major conduit for foreigners who slip across the border to help insurgents trying to topple Syrian President Bashar Assad.

In the first conviction of its kind, Israel in November jailed Ahmed Shurbaji, an Arab citizen who returned voluntarily after spending three months with the Islamic State in Syria.

He received a relatively light term of 22 months in return for cooperation with security services that would likely "help the State of Israel defend itself against this organization in various ways," the court said, in a possible allusion to information he provided about Islamic State.

A source in the Shin Bet, Israel's internal security agency, said Israeli Arabs returning from Syria were routinely questioned for intelligence on jihadi groups.

Shurbaji had phoned an Israeli security official from Syria to broker a deal. The Shin Bet source said such communications with Israeli Arabs who wanted to return from Syria had sometimes been handled by Ayoob Kara, an Israeli Druze politician and former army officer close to Prime Minister Benjamin Netanyahu.

Contacted by Reuters, Kara said he was aware of Musallam's case and did not believe he was a Mossad spy.

While declining to discuss Musallam in detail, Kara said he knew of several young Israeli Arabs who had gone to Syria to aid refugees or for the thrill of available women or booty, only to be kidnapped and exploited by insurgents like the Islamic State group.