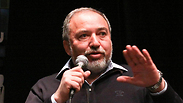 Yisrael Beiteinu chairman Avigdor Lieberman
Photo: Ido Erez
Yisrael Beiteinu chairman Avigdor Lieberman bashed Netanyahu's conduct during Operation Protective Edge, saying that the fighting in Gaza ended with no results: "We fought and were inside shelters for 50 days. What's the result? Hamas continues to fire at us. My position was clear during the operation and after it. If it was up to me, we wouldn't have left the bunker after 50 days, but rather remained underground."

Speaking at a cultural event in Be'er Sheva on Saturday, Lieberman said: "It cannot be that we counted 70 dead and dozens wounded, and the country is refraining from doing anything. My opinion on the matter was clear, and I voiced it and also voted for it in the cabinet. Just like we can't launch a military operation every two years, we can't hold elections every two years. It's impossible to live like this."

The Yisrael Bieteinu chairman continued on to say that there was an option of forming a government without Netanyahu in the past two elections. "The Likud came to power twice thanks to Yisrael Beiteinu," Lieberman said. "Our capability of establishing an alternative government was clear. The Likud party forgot about this very quickly."

Lieberman also clarified at the event that he was not afraid of any electoral damage to his party following the major corruption probe involving members of Yisrael Beiteinu, Deputy Interior Minister Faina Kirschenbaum.

"There is no corruption case, but there is a scandal involving sexual perverts in the Israel Police. If you want to cover up failures, you have to invent something. This is the sixth time in a row since the beginning of elections campaigns that a new case was opened involving Yisrael Beiteinu. It's an interesting coincidence."

In the recent scandal centering on Deputy Foreign Minister MK Faina Kirschenbaum, suspicions arose that coaltion funds were used by political officials to transfer financial subsidies that essentially functioned as part of a system of bribery.

Kirschenbaum, who is also the general secretary of Yisrael Beiteinu, is suspected of accepting money, which was not deposited into her personal accounts, but rather as salaries for associates and relatives (apart from the appointment of her daughter to the Beef Cattle Growers Association, which is under investigation).

Kirschenbaum is suspected of receiving hundreds of thousands of shekels in kickbacks. In contrast to the other suspects, her conversations were not secretly recorded because of her official government position, but there was surveillance of her activities.

Kirschenbaum is a high-profile member of Yisrael Beiteinu and a close associate of Chairman Avigdor Lieberman. The bulk of the party's activities go through her, and she is involved in all its parliamentary and political moves.

Former minister of tourism Stas Misezhnikov is also suspected of accepting bribes, facilitating bribes, and cronyism.