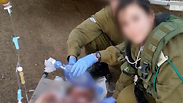 Soldier providing medical assistance to Syrian
Photo: IDF Spokesperson's Unit
Two years have passed since the State of Israel opened its gates to permit victims of Syria's conflict to enter the country and receive medical treatment. While the media occasionally publishes articles that include interviews with the wounded or the civilian doctors who provide them treatment, issues such as the stressful and traumatic circumstances IDF paramedics experience in their work are rarely brought to the public's attention.
The harrowing events experienced by soldiers during their long hours of work has been taking a toll the IDF can no longer ignore. Testimonies collected by Ynet from IDF medics and paramedics who served in the area for the past two years paint an alarming picture, detailing the extent to which IDF medical teams are influenced by the difficult scenes they encounter on almost a daily basis.
Two Nahal Brigade soldiers who served in the line of duty were discharged after suffering a deterioration in their mental health, while others receive psychological treatment from mental health officers.
"You can prepare yourself for combat like that in Operation Protective Edge, knowing that you have a limited number of 'difficult days'. But in the Golan Heights, you face an unchanging reality of months. It's not a war, but rather a crazy routine filled with anonymous wounded people and strangers, on almost a daily basis," says G., a Golani paramedic who served in Gaza during Operation Protective Edge and is currently stationed in the Golan Heights, where he provides first aid to people wounded in Syria's civil war.
"In several more months, when I'll be a regular citizen, these nightmarish experiences with the wounded Syrians will claw at me at night to a far greater degree than the trials of the war in the summer," he added.
Another soldier, Ido (not his real name), who served in the past year as a medic in the sector, describes scenes of what he terms as "institutionalized madness."
"It's insane," he says. "They wake you up at 5 am and tell you that at 8:30, you will have to carry out authorization checks (procedures in which you make sure the wounded are not terrorists) on dozens of severely wounded people who will be waiting for you at the security fence. That's how you start your day. You brush your teeth, eat breakfast, knowing that in two more hours you'll be treating an open head wound…It's crazy."
The procedure is as follows: the wounded enter and leave Israel through certain openings in the northern fence. Some receive treatment at a field hospital set up by the army at one of the military posts, which includes surgery and trauma rooms. After initial treatment, an intensive care ambulance evacuates the wounded to the Poriya Hospital in Tiberias, the Ziv Medical Center in Safed, the Rambam Medical Center in Haifa and the Nahariya Western Galilee Medical Center.
"As a medical team, we have a commitment to provide aid to every human being, even if he's an enemy," an IDF paramedic regularly stationed at the area said. "An unbelievable amount of wounded people from enemy countries pass through here," she said, explaining that "you don't know their names due to secrecy issues."
Some, she said, are "children who you know were not involved in the any kind of fighting and arrive with a nearly-detached leg, or an elderly man who wasn't treated for a week, whose hand is infected to the extent that you know that severing it is the only thing that will save his life."
"Work prepared us for Gaza fighting"
While the IDF refrains from specifying the exact number of Syrians Israel has taken in so far, estimates place the number at several thousand. According to data from hospitals in the north, as many as 1,000 wounded passed through their doors. Many others were released directly from the military field hospital set up at the border.
"We had busy days in which we were called to take in more and more wounded," a paratrooper said, adding, "we barely had time to eat or drink.
"The advantage of the work is the operational experience we received in treating the wounded, us during Operation Protective Edge. It improved the quality of our medical care more than any training exercise, and helped us not suffer from shock when we were inside Gaza, treating wounded soldiers."
The defense establishment and the IDF recently explained that one of the main considerations behind Israel's decision to provide humanitarian aid to wounded Syrians has to do with a future-oriented perspective, according to which "quiet understandings" reached with Israel's help would ensure future peace with those in control on the other side of the border. Currently, most of the Syrian border with Israel – approximately 80 kilometers between the slopes of Mount Hermon and Hamat Gader – is controlled by the rebels and not by Assad's army.
Most of the rebels belong to the Free Syrian Army, while some are linked to Jabhat Al Nusra, Syria's branch of al-Qaeda. "Our aid to them is tantamount to the expression "Cast your bread upon the water, and you will find it," a senior defense official admitted.
Wounded Syrian saved medic
There are, of course, difficulties involved in such a line of duty. Soldiers from the Paratroopers Brigade's Reconnaissance Battalion, who have been in charge of the sector for the past year – during which they absorbed hundreds of wounded Syrians – shared several tense moments, as well as some touching ones.
"We developed ways of dealing with the possibility of psychological difficulties, in part by using cynicism and humor, and following the procedure according to which we conduct a discussion following each treatment given to a wounded person," one of the soldiers said. During the discussion, he added, officials "investigated the methods of treatment and drew conclusions, and also made sure the soldiers showed no signs of post-traumatic stress disorder."
"A mental health officer came to visit us once, and from what I remember, only one soldier asked for assistance. We know how to protect each other emotionally," he said.
A medic in the Paratroopers added: "We were stunned by the endurance of the wounded Syrians. There was one boy who came with a piece of iron lodged in his head, but he was silent and didn't cry or complain. We were instructed not to have conversations with the wounded, but sometimes they would thank us after several days of treatment."
"There was one mother who brought her baby daughter with her twice – she was sick, not wounded. She managed to get to know us. Later on she came with her second daughter. Another time, we were travellling with three wounded Syrians in our car, after a treatment of several days, when one of our medics leaned on the car's door and almost flew out of the vehicle. but one of the wounded people next to him grabbed him, pulled him in and saved him."
IDF: We formed plans to deal with difficulties
The IDF confirmed that two soldiers from the reconnaissance battalion of the Nahal brigade who administered medical treatment to the wounded and witnessed difficult scenes on the Syrian border were relieved from their duties upon their request, a year and a half ago.
"These cases do not represent a trend; we didn't see it as a sweeping problem and we drew conclusions," a source in IDF's mental health department explained.
The army noted that the discharging of the two soldiers prompted officials to further develop a plan formulated to provide mental health care to fighters. "We are making many efforts in our implementation of the Magen ("Shield") program for mental health, which includes preliminary intervention before the soldiers move on to operational duties.
"As part of the preparations, we tell them what to expect and in general provide information about wounded Syrians," the source added. "Mental health officers are working closely with officers and instructing them on how to detect signs of distress from soldiers and how to handle them. We don't see the issue as a phenomenon."
Ahiya Raved contributed to this report.