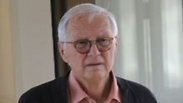 Reuven Adler
Photo: Motti Kimchi
After the intense criticism launched at the Zionist Camp's elections campaign, the center-left party recruited well-known publicist Reuven Adler to be its chief strategist and set the tone for the campaign in the month leading up the March 17 election.

Adler, co-owner of the Adler-Chomski Group, is a father of three, living in Tel Aviv. He was part of the storied "Ranch Forum" of former prime minister Ariel Sharon and was considered one of the iconic Israeli leader's closest associates.

Adler was investigated in 2004 in the Cyril Kern affair, in which allegations were raised that a South African millionaire transferred $1.5 million to the account of Gilad Sharon to cover an illegal donation Sharon received in the Likud primaries of 2001.

On Wednesday, the Zionist Camp unveiled a new, negative campaign under the headline, "Only a sucker votes Netanyahu." The latest strategy was launched after recent criticism that the faction was pulled into the existing national dialogue.

Sources at the election headquarters claimed, at the time, that there was talk of dismissing the campaign strategists, Eitan Levin and Memi Pe'er, but the rumor was denied by Zionist Union leader Isaac Herzog.