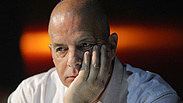 Former Shin Bet chief Yuval Diskin
A new video released by the Likud on Saturday, warning Israelis that voting for leftwing parties will allow the Islamic State militants to make their way to Jerusalem, was badly received among some security figures, including former Shin Bet chief Yuval Diskin.

Diskin noted that Netanyahu had released Sheikh Ahmed Yassin, leading to the restructuring of Hamas. "He has lost all shame," wrote the former security chief.

"The left will invite Daesh to Israel, said Netanyahu, the man who released Sheikh Ahmed Yassin in 1997 and allowed him to rebuild Hamas; the man who released more than a thousand terrorists, some of whom have already returned to committing attacks during his term as prime minister," he said, in a brief attack on the controversial video.

Likud ad (in Hebrew) showing ISIS arriving in Israel ( )

"The man who released terrorists instead of freezing the settlements in a deal with Bayit Yehudi, who was dragged into the longest war since the War of Independence – against a terror group – who threatened Iran but cannot defeat a terror organization in Gaza. Securi-Bibi? More like lack of security. He has lost all shame, that is certain," wrote Diskin.

The video shows actors dressed as Islamic State militants asking another driver, "how do we get to Jerusalem, my brother?" An Israeli replies, "Take a left."

As the pretend-terrorists drive away, a sticker is shown on their pick-ups rear: "Anyone but Bibi."