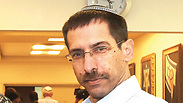 Uri Orbach
Photo: Miriam Tzahi
Uri Orbach, a government minister from Bayit Yehudi, passed away Monday, after a long battle with a chronic hematological illness. Orbach, who was a well respected journalist before turning to political life, was 54 when he died. He was laid to rest in Modi'in Monday afternoon.

Orbach served as Minister for Senior Citizens in the current government. He had previously worked as a teacher, author and journalist for Ynet and its sister print publication, Yedioth Aharonoth. In recent weeks his condition deteriorated and he was hospitalized at the Shaare Tzedek Medical Center in Jerusalem.

Born in Petah Tikva to a religious family in March 1960, Orbach studied in a number of religious schools and seminaries before joining the IDF as part of a special enlistment tract for young religious Israelis. He served in Kiryat Shmona, where he then lived for a number of years, working as a teacher.

Orbach began his journalistic career in the local media. He went on to found the children's newspapers "Otiyot" ("Letters") and "Sukaryot" ("Candies"), and edited countless newsletters for the religious Zionist sector of which he was a proud scion.

He also founded the first religious Haredi radio station, Kol Hay, as well as the religious television channel "Tchelet", where he served as head of programming.

For more than 13 years he published weekly coloumns for Yedioth Aharonoth's weekend print edition, and also contributed to the Jewish channel of its then-newly formed website Ynet.

During this time he penned countless children's books and hosted the popular "Last Word" ("Mila Ahronah") radio program on Army Radio.

In 2008 he announced he was leaving his media career for a political one, and joined the rightwing Bayit Yehudi party, gaining the third spot on its 2009 Knesset list.

He proposed numerous bills and served on range of committees. In 2013 he was appointed minister for senior citizens. This January, despite attaining a high position on the party's election roster, he decided to step down to "take some time to deal with urgent medical issues."

Uri Orbach is survived by his wife and four children. He was laid to rest at 4:30 pm on Monday, in Modi'in, in a ceremony attended by Israel's political leadership, including Prime Minister Netanyahu, Zionist Union leaders Isaac Herzog and Tzipi Livni, and President Reuven Rivlin, who praised him as a just, modest and special man.




President Rivlin said Orbach was a close and trusted friend, and called him "Uri the good and the modest, the fair, the honorable."

He added that he could not find the words to express the loss, and eulogized the late minister's sense of humor and sharp tongue. "We thought you would make the angel of death laugh so hard, and win the battle."

Bayid Yehudi Chairman Naftali Bennett thanked Orbach "in the name of the children you delighted with your books, in the name of the parents you made laugh with your wit, in the name of the retirees, the religious, and the secularists, who you brought together as your mission in life."

Before the funeral, the government held a special Cabinet session in his honor.
'No one more beloved in politics'
Prime Minister Benjamin Netanyahu eulogized Minister Uri Orbach after his passing on Monday. "Despite his exceptional wit he did not have an ounce of evil in him. I never heard of one person who met him and did not love him. Yesterday, standing with his family, I said my goodbyes to him in the hospital, feeling sorrow and a sense of deep loss."
He added: "Uri will be missed by his dear family, his friends in the government, and the State of Israel."
Bennett eulogized his friend after his passing. "My older brother has left me. Uri, a man of joy, of wisdom, of integrity, of courage, and of vision. Uri knew to pave the way ideologically with persistence and grace, with diligence and with a wink, with endless self-awareness and a personal charm that never faded."
Bennett said his close friend "knew how to thrill kids with his books and make parents laugh with his wit. There was no one in this cold, cynical world of politics a more beloved man than Uri. I will miss him greatly."
He added: "Today I lost a dear friend, a friend in difficult days and days of joy, a man to turn to and to laugh with; I lost a friend who I would not be here had he not been in my life. I sent my condolences to his wife Michal and to the four children. We will continue to follow in Uri's trail, but it will be much more difficult and much sadder without him."
Meretz chairwoman Zehava Gal-on also eulogized Orbach on Sunday. "Orbach was a decent man, pleasant and sharp, with a unique world view; he was a dedicated and diligent parliamentarian. He knew how to bridge between the different worlds of Israeli society."
Gal-on also sent her condolences to his family.
Yesh Atid chairman Yair Lapid added to the mournful messages released after the minister's passing. "More than a colleague and a coalition member, I will always remember my friend Uri Orbach as a person who worked for the elderly and the pensioners in the State of Israel."
He added: "Despite our difference of opinions, we maintained a close personal relationship; I will miss him greatly."