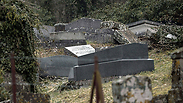 Teen confesses to destroying graves
Photo: AFP
Five adolescents aged 15 to 17 have been detained for questioning in eastern France over the vandalism of Jewish graves, a local prosecutor said on Monday. All five are from the region of Sarre-Union in Alsace, where around 300 tombs were defaced and damaged on Thursday.

The youngest came forward after being shocked by the massive reaction across the country to the vandalism, prosecutor Philippe Vannier said.

"Apparently, he was very very affected by the scale of the reaction to this affair, including the statements from the highest state authorities," Vannier told reporters.

The boy, who was encouraged to hand himself in by one of his friends, has denied any anti-Semitic motive, Vannier added.


"We don't know the motives of these adolescents who don't have past criminal records and we don't know of any ideological convictions that could explain their behavior. "They are very very shocked by the turn of events."

The five boys pushed over tombstones in the cemetery and opened up vaults. A monument to the victims of the Holocaust at the entrance was also vandalised.

The incident was condemned by the government, with Interior Minister Bernard Cazeneuve calling it "a despicable act" on Sunday, while Prime Minister Manuel Valls described it as "anti-Semitic and ignoble" on Twitter.

It is not the first time that a Jewish cemetery in Sarre-Union has been targeted.

In 1988, around 60 Jewish steles were knocked over, and 54 tombs were wrecked in 2001.

News of the latest incident comes just over a month after an Islamist gunman shot dead four Jews in a kosher supermarket siege in Paris and less than 24 hours after a fatal shooting at a synagogue in Copenhagen.