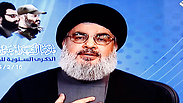 Nasrallah in the televised speech
Photo: EPA
The leader of Lebanon's Hezbollah group strongly denounced on Monday the Islamic State group's beheading of a group of Egyptian Christian hostages in Libya.

In a speech to hundreds of his supporters in southern Beirut Monday, Sheikh Hassan Nasrallah said the CIA and Israel's Mossad are behind the extremist group, which serves their interests.

He claimed Israel is the only country which has not been affected and does not consider the group a threat. "Everything Daesh (ISIS) has done up to now serves Israel's interests one hundred percent," he stated.

The Iranian-backed Shiite Hezbollah group, which has sent thousands of its fighters to Syria to help shore up President Bashar Assad's forces, has positioned itself as a vanguard against Sunni extremists such as the Islamic State group.

Nasrallah called on regional governments to work together to confront ISIS, whose crimes "are a threat to the entire universe."

The fate of Lebanon is decided not inside the country, Nasrallah said, or in Syria, Iraq, Jordan, or any other country – but in the region as a whole.

Nasrallah also devoted part of his speech to the death of Jihad Mughniyeh in an airstrike that was attributed to Israel. "Imad Mughniyeh's son stood on this very stage and swore his allegiance, and declared where he belonged and what he chose," he said. He said the strike stirred memories of previous Hezbollah "martyrs", especially Imad Mughniyeh.

Nasrallah vowed that "the enemy" would pay for Imad Mughniyeh's "blood".