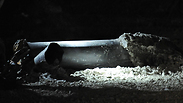 Archive photo of Gaza mortar
Photo: AFP
Two mortars fired from Rafah in the southern Gaza Strip fell a few hundred meters from the Israel-Gaza barrier Monday night, Palestinian sources in Gaza reported.

It is unlikely the mortars are an attempt by Gaza terror factions to target Israel, though such incidents have occurred since Israel and Hamas reached a ceasefire agreement after fighting a 50 day war in the summer.

Hamas and other Gaza terror groups could have fired rockets since the ceasefire, but the majority were fired as part of military exercises or as a result of infighting.

Related stories:

Towards the end of January, several rockets were launched from northern Gaza towards the Mediterranean Sea, as part of Hamas' ongoing rocket trials.

Nonetheless,three rockets fired by Gaza groups have hit Israel since the ceasefire. The most recent was at the end of January and exploded in the Eshkol Regional Council, prompting Israel to shift its Iron Dome anti-missile batteries to the south and the IDF to hit a number of targets in Gaza.

After the incident, Ynet learned that Hamas had begun to renew tunnel construction within Gaza and shifted its military strategy.

According to Palestinian sources in the Strip who spoke to Ynet, after Israel allowed the flow of limited goods and materials into Gaza, a black market for mortar emerged - allowing Hamas to renew construction of concrete slabs used to line the inside of the tunnels.

Only last week it was cleared for publication that Israeli Navy forces trapped a boat shipment of a ton's worth of materials for rocket manufacturing, intended for Hamas in Gaza.