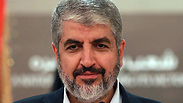 Khald Mashal, the head of the Hamas political bureau, met with Iran's Quds Force commander Qasem Soleimani several days after the end of Operation Protective Edge, pan-Arab daily Al-Hayat reported on Tuesday.

The covert meeting between the two was reportedly held in Turkey, with Mashal meeting Soleimani only after receiving authorization from the other members of the Hamas political bureau.

Relations between the Gaza rulers and Iran strained over Hamas' support of Syrian rebels fighting to overthrow Tehran's ally Bashar Assad. But according to the paper, ties between Iran and Hamas have returned to normal and that there has been a positive atmosphere between the two sides even though some issues remain unresolved.




While Iranian support of Hamas is not as it used to be before the crisis in relations, the paper reports the reason for that is purely bureaucratic.

Soleimani, who was one of the Iranian leaders to show understanding to Hamas' position on the Syrian civil war, congratulated Mashal for the renewal of ties between Tehran and the Islamist movement. The two discussed the Syria crisis and agreed Hamas would continue presenting the same position it has been holding since the beginning of the conflict.

They also discussed the possibility of Mashal visiting Tehran, which Mashal conditioned on receiving an audience with Iran's spiritual leader, Ayatollah Ali Khamenei.

They further discussed the renewal of Iranian financial and military aid to Hamas, and Tehran's wishes that Hamas publicly acknowledges the alliance and publicly thank the Islamic Republic for the aid it has been providing.

Several weeks after the meeting, a delegation of senior Hamas officials arrived in Tehran for an official visit. According to different reports, the delegation discussed several issues with the Tehran regime, including the situation in Gaza and the fact donation funds to rebuild the Strip have yet to arrive.

The Hamas officials expressed concern elements who support the Islamic State will gain more influence in Gaza, as it already had impact among young people in the Strip, something Iran is trying to prevent. Iran wants to be seen as one who supports Palestinian resistance, and is convinced Hamas is the strongest and more efficient resistance power in the Gaza Strip and West Bank.