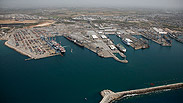 Ashdod port
Photo: Ilan Arad
Israel will begin selling major stakes in a number of state-owned companies in November or December despite any political uncertainty created by elections next month, said a top Finance Ministry official who will head the transition.

A decade after its last privatization program, the government aims to sell all or part of eight companies and two ports by 2017, raising around 15 billion shekels ($3.9 billion) in a plan announced in October.

Of the 87 companies that remain in government hands, the 10 set to be sold generate nearly 90 percent of revenue, said Ori Yogev, who is officially the head of the Government Companies Authority, a unit of the Finance Ministry.

With Knesset elections set for March 17, a new government may not be in place until the middle of 2015 given the difficult process of forming a ruling coalition in a field with several strong political rivals.

But Yogev said that would not stand in the way of the government floating up to 49 percent of the Ashdod port – one of two main seaports on the Mediterranean coast – on the Tel Aviv Stock Exchange (TASE) in November or December. The controlling stake will be sold in 2020.

"Part of the decision is to develop the TASE and develop the local market even if in some cases we can get better value outside of Israel," Yogev said.

A minority stake in Israel Natural Gas Lines will also be sold late this year, along with the full privatization of Israel Military Industries – the developer of the Uzi submachine gun and other iconic Israeli arms and ammunitions – and the issuance of tradable bonds in the country's railway and electric utility.

Yogev, a former budget director and economic confidant to Prime Minister Benjamin Netanyahu, expressed confidence that the companies would have little problem being sold since the firms will be viewed as blue chip companies with low risk.

"In Israel and the Western world there is no problem with funding," he told Reuters. "In the era of zero interest rates, everybody wants to find a better investment."

As part of the sell-off plan, which will help pay down Israel's debt and improve efficiency, Israel also aims to privatize or sell minority stakes in Israel Electric Corp, Israel Railways, water company Mekorot, the Israel Postal Authority, the Haifa seaport and defense contractors Rafael and Israel Aircraft Industries - all on the Tel Aviv market.

The last privatizations took place from 2003-2007, when the state sold stakes in two of its largest banks – Leumi and Discount – flag carrier El Al, shipping line Zim, Israel Oil Refineries and Bezeq, Israel's largest telecoms company.

Israel has tried to privatise Israel Electric Corp over the years but union opposition has been a major hindrance. However, Yogev said a 25 percent stake would be sold in 2016, dependent on structural reforms at the company.

For the time being, Israel will retain control of the defense firms and utilities, mainly for geopolitical reasons. But Yogev said some could ultimately be fully sold once they are no longer monopolies – such as with Bezeq, which was only sold once the telecoms market was competitive.