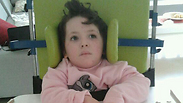 Adva Biton
Photo courtesy of family
Adele Biton, the four-year-old girl who was critically wounded in a terror attack two years ago, died Tuesday evening of lung infection-related complications.
The attack occurred on March 14, 2013 near Ariel when a truck driver suddenly hit the brakes after his vehicle was struck by stones hurled by Palestinians. The car behind him, carrying Adele, her two sisters and their mother Adva Biton, lost control and collided with the truck. The two other sisters, Avigail and Naama - aged four and five - sustained moderate injuries.
When recounting the night of the accident, Adva noted that immediately after the crash she had looked at the back seat and "saw Adele with her head dropped to the side. I put out my hand to make sure the head was attached and to open the airway. She had a very slow pulse."
Following the attack, Adele was hospitalized at the Schneider Children's Medical Center and was later transferred to the Beit Levinstein rehabilitation center in Ra'anana.
In September last year, Adele returned to her home in the northern West Bank settlement of Yakir after a prolonged period of treatment.
On Saturday night, Adele began to feel ill and suffered from a cough. Her parents called an ambulance on Sunday night, and she was taken to the Schneider Medical Center, where she was admitted to the pediatric ward. Her condition deteriorated Monday evening and she was admitted to intensive care, where she was in critical condition.
Her mother Adva said earlier this morning: "I pray we shall witness another miracle, as we saw last time. The doctors are doing their best, fighting for her. There is no doubt (her condition) is part of a progression of neurological injuries, from which she suffers, which complicates her ability to cope with medical issues. Every little thing puts her under great stress."
Adele spent the last few months at home. "Every day she was home was a day of joy," her grandmother Rachel said earlier Tuesday. "She is a lovely girl who is cooperative, does whatever she is asked. She is with us, and is not detached. Sometimes, over the phone, I even kiss her and talk to her, and she responds with her own kind of signals.
"I ask the people of Israel to continue praying. This girl will end up being a walking miracle."
Muawiya Qabha, the Arab medic who saved Adele on the night of the attack, eulogized her, saying: "Words can't explain the pain I feel and tears are choking my throat. How could a superhero be defeated? It's just not possible," he said.
Qabha had been in touch with the Biton family in the past two years, and was the guest of honor at their Mimouna celebration last year. Earlier in the evening, he arrived at the hospital to comfort Adele's parents. "There is no sadder moment than this. Adele, my little girl, you were a hero when you were alive and will continue to be one in your death. I will always remember you."
Qabha further stressed: "Adele did not pass away, she was murdered in a terror attack by a criminal."