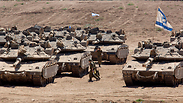 IDF tanks on the border
Photo: EPA
Public opinion polls conducted for the Institute for National Security Studies reveal that some Israelis have been second-guessing the results of Operation Protective Edge in the months after its conclusion.

According to surveys taken during the operation and this week, the number of Israelis who believe the IDF was victorious in the campaign decreased while the percentage of those who say Hamas won increased significantly.

The polls, which included 500 respondents from a sample representing the adult Jewish community of Israel, determined in July 2014 that 71 percent of Israelis believed the country was winning the ongoing campaign. By the beginning of August – some halfway through the operation – that figure dropped sharply to 51 percent; today it stands at 46.

On the other hand, the percentage of those who believed Hamas was winning the battle rose from 4 percent in August to 20 percent six months later.

The polls also questioned participants regarding the establishment of a Palestinian state; the support for such a proposition has been dropping among Israelis for the past three years. In surveys conducted in 2012, 2014, and 2015, the researchers found that the percentage of people who believe in a diplomatic resolution dropped from 59 percent in 2012 to 50 in 2014, dipping to a low of 47 percent this year.

Nevertheless, according to two polls, one conducted this year with 500 respondents – who represent the adult Jewish population – and another conducted online with 1200 people – who also represent such a sample – more than half of those questioned said the correct long term resolution to the Israeli-Palestinian conflict was two states for two peoples.

When asked "What, in your opinion, is the right solution in the long-term for the Israel-Palestinian conflict," 54 percent of the web users and 49 percent of those polled on the phone answered "Two states for two peoples."

The poll found that the Jewish public does not support large-scale annexation of West Bank lands, with only 16 percent of internet respondents and nine percent of those on the phone believed the correct long-term solution involves annexing the territories into one state.