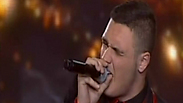 Israel has selected its representative for the 2015 Eurovision Song Contest – Nadav Guedj, winner of the second season of reality TV show "Hakcohav Haba" ("Rising Star").
The 16-year-old will travel to Vienna to participate in the competition. He won the qualification final on Tuesday night over three other finalists: Avia Shoshani, Sari Nachmias, and Iki Levi & Rasta Hebrew-Man. He won the finals with a 79 e – ten points more than the bar set by Iki Levy & Rasta Hebrew-Men, the other contenders for the top spot.
"This is crazy. Thank you to every single person who voted for me," said Guedj. "I could have done a little better, but I feel that I delivered the goods. I'll keep working on my studies, and at least do my Bagrut (Israel's final exams)."
The qualification final was divided into two rounds. Shoshani was voted out first, coming in fourth, with Nahmias landing in the third spot. Guedj went head-to-head with Iki Levy & Rasta Hebrew-Man for the top spot before winning.
22-year-old Shoshani sang a composition by Ivri Lider, known as a judge on "The X-Factor," which is a competitor of "Rising Star." Seventeen-year-old Nahmias sang "Fix You" by Coldplay and the standard "Feeling Good". Iki Levy and Rasta Hebrew-Man sang a Zohar Argov song and John Lennon's "Imagine."
Guedj, the youngest of the finalists, performed "Crazy in Love" by Beyoncé and John Legend's "All of Me."
Israel has won the Eurovision Song Contest three times, with back-to-back wins in 1978-9 and a victory in 1998. However, Israel has failed to qualify for the finals in the past four competitions, leading to discussions of retiring from the competition after 41 years.