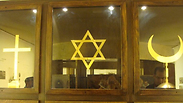 We stand shoulder to shoulder
Photo: Sandy Livak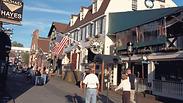 Rhode Island (archives)
Photo courtesy of the Preservation Society of Newport County
WEST WARWICK - The community won't be divided by whoever tagged the Islamic School of Rhode Island with offensive graffiti, local faith leaders said Tuesday.

The FBI opened a civil rights investigation into the vandalism Saturday night. School officials say the entrance was tagged with orange graffiti that read "Now this is a hate crime," ''pigs" and offensive references to Muhammad.

Spiritual Growth

Op-ed: It is plausible to surmise that God brought Christianity and Islam forth to teach the world that both the theological and ethical pillars of the Torah are essential to build spiritual and just societies.

Mufti Ikram, the resident imam in North Smithfield, said the person responsible "failed miserably" because "we stand together as a community in our prayers, and we stand shoulder to shoulder."

Hilmy Bakri, president of the school's board of trustees, called the graffiti hurtful. "We are one Rhode Island community," he said.

More than 20 faith leaders and law enforcement officials gathered at the school Tuesday in a show of solidarity. Rabbi Sarah Mack, president of the Board of Rabbis of Greater Rhode Island, said local Muslims have supported the Jewish community during trying times so she wanted to do the same.

"In a community that works so hard to build bridges, this deed is meant to divide," she said. "And so we stand together today, Jews, Christians and Muslims alike, to say no, we will not let it be so. We condemn this hateful and intolerant deed."

Bakri said it was heartwarming to see so many people speaking out against the "heinous crime."

The school, which opened in 2004, is the state's only full-time Islamic school. It has not been the subject of vandalism or any serious threats in the past decade, Bakri said.

Police were working with the FBI in finding the person or people responsible. They're reviewing surveillance video from the school and were seeking tips from the public.

US Attorney Peter Neronha said parents should feel safe sending their children to the school.

Principal Abdelnasser Hussein said he's focused on removing the graffiti and ensuring students are safe. He said school leaders are reaching out to the community to clear up any misunderstandings that may lead to incidences like vandalism.

Hussein also said they are reviewing the school's security measures and may enhance their security.