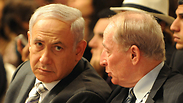 PM Benjamin Netanyahu
Photo: Yair Sagi
A damning report by the state comptroller into the prime minister and his family's expenditures has dealt Benjamin Netanyahu a serious electoral blow, a new survey published by Israel's Army Radio revealed Wednesday morning.

The report released by State Comptroller Yosef Shapira found a dramatic increase in the prime minister residence's spending on food, cleaning and clothing after Benjamin Netanyahu took office.


According to the report, the expenditures reached millions of shekels funded by tax payers – and it pointed to a number of troubling discrepancies in billing, including one case in which a Likud activist was illegally employed with irregularly high pay. The attorney general must now decide whether to recommend a criminal investigation into either one of the affairs.



According to the survey, conducted by the Shiluv Millward Brown market research group, 41 percent of the respondents said that the chance they would support the Likud in the March 17th election had dropped. Out of those who said they were voting for the ruling party, 22 percent said they were now reconsidering, or were less supportive of the party, in wake of the report's publication.

Some 49 percent of general voters and 54 percent of the Likud voters said the report would not influence their vote.




The comptroller report clearly found that there was legal criminal concern in at least two ongoing scandals: The first regards the prime minister's wife, who is suspected of pocketing cash returns from recycled bottles, and the second is the garden furniture affair, in which the Netanyahu family was accused of purchasing new furniture for their private home that was intended for the official Prime Minister's Residence.

Another section of the state comptroller's report dealt with electrical work that was ordered for Netanyahu's private home in Caesarea, despite the fact that the electrician was barred from working for the prime minister, because of his ties with the Likud party.

The report found that the Netanyahu family used state funds to hire him to do electrical work at the private residence under false pretenses in which it appeared that a different contractor was brought in; however, in reality electrician E. did the work as a subcontractor.