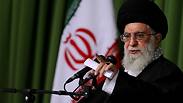 Iran's supreme leader Ayatollah Ali Khamenei
Photo: AFP
Iran's supreme leader Ayatollah Ali Khamenei vowed on Wednesday that his country would resist global sanctions imposed over its disputed nuclear program, saying that Iran might respond to international pressure by cutting back gas exports.

"The enemy is using the lever of sanctions to the hilt and their goal is to stop our people's progress," Khamenei said in a public speech in Tehran carried by the official IRNA news agency.

"I believe that if we allow them to dictate to us on the nuclear issue, they will still keep the sanctions in place because what they are against is the very foundation of our revolution."

Iran is in talks with the United States, Russia, China, Britain, France and Germany to end a decade-old standoff over its nuclear program which the West fears could be used to develop a nuclear bomb. Iran denies having any nuclear weapons ambitions and is seeking an end to international sanctions.

"Serious work must take place. We can withstand the sanctions and neutralize and foil the enemy's goals. If we don't, the enemy would proceed and place conditions on our nuclear program and impose sanctions," Khamenei said.

"If sanctions are to be the way, the Iranian nation can also do it. A big collection of the world's oil and gas is in Iran so Iran if necessary can hold back on the gas that Europe and the world is so dependent on."

Iran produces 2.7 million barrels of oil per day, mainly for domestic consumption. It also produces 600 million cubic metres per day of gas, of which 500 million cubic metres is consumed domestically - although Iranian officials say they plan to double gas production in two years.

Khamenei said the United States, which has waged air strikes against Islamic State fighters in Iraq and Syria, had written to Tehran about tackling the radical Sunni Islamist group. But he accused Washington of secretly supporting Islamic State fighters.

"They wrote a letter to the Iranian foreign ministry promising not to support Daesh (Islamic State), not knowing that the evidence in photographs of their military assistance to Daesh was already in the hands of the revolutionary forces (Iraq's Shi'ite-led government and militia)," Khamenei said.

Iran's Foreign Ministry also criticized the European Union on Wednesday over the re-imposition of sanctions on the National Iranian Tanker Company (NITC), Iran's biggest tanker company. "This is a political measure and it is in contradiction with the nature of the nuclear talks," Marzieh Afkham was quoted by the semi-official Fars news agency as saying.

European Union governments are expected to agree to put the National Iranian Tanker Company (NITC), Iran's biggest tanker company, back on a list of sanctioned firms, diplomats said on February 12.