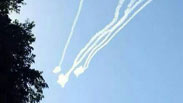 Rockets fired at Sderot during Operation Protective Edge
Photo: Albert Gabai
In Sderot, only one psychiatrist available for traumatized residents
At least 1,000 children from Sderot undergo psychological treatment due to trauma following Operation Protective Edge, but despite government's decision to reinforce city's Mental Health Center, there is only one psychiatrist available.
While many Sderot residents suffer severe psychological trauma due to their prolonged exposure to an unstable security situation, there is only one psychiatrist available to the 22,000 people living in the Negev city.

Despite data indicating a rise in post-traumatic stress disorder (PTSD) rates among locals and requests for psychological help, such services are sparse in the area: one psychiatrist passed away, and another has been ill for a long period of time, leaving the frustrated patients with practically nowhere to turn to for emotional care, with only one psychiatrist left working in the city.

Employees of the Center for Social Rights in Sderot recently sent a warning letter to the Health Ministry as part of a joint effort between students from the Sapir Academic College and locals. "There is no need to elaborate on the situation in the city, but we would like to remind (the Health Ministry of) the decision of the government on July 13, 2014 regarding the 'running of a night medical clinic and the reinforcement of the staff at the Sderot Mental Health Center,'" wrote Attorney Eitan Michaeli and Attorney Becky Cohen-Keshet, volunteers of the city's Center for Social Rights and with Physicians for Human Rights.

"Not only was the reinforcement not given, but the Sderot residents who need psychological support and individual therapy are left untreated. We were contacted by worried locals who sense severe neglect on the part of those responsible for mental health services," they wrote.

One resident, referred to as A., 31-years-old, has been receiving treatment in the mental health clinic for the past two and a half years, since being injured in a work accident, and suffers from PTSD. He usually meets with a social worker in the clinic, and receives medical and medicinal treatment from a psychiatrist. "Lately, I didn't have that, and it affected me in a bad way. The medicines had negative effects, but there was no one to consult with, so I decided to stop taking them. I was out of balance – nervous and impatient, and ultimately it led me to suicidal thoughts."

Lawyer Michaeli explained: "In Sderot, there are people with different levels of mental illness, like any other city. They are entitled to receive treatment. They shouldn't have to go to Be'er Sheva or Ashkelon. Beyond that, many are mentally ill due to the security situation over the past 14 years."

The mental health center, he explained, operates as a joint venture between the Barzilai Medical Center and the Sderot Municipality. "One psychiatrist died and was not replaced, another psychiatrist has been ill for the past two months, and now there is only one psychiatrist. The social worker who was there resigned, but said he was willing to work part-time until they found a replacement; however, they rejected his offer."

"We sent a letter to the Health Ministry and got a call on the same day…it was clear from the conversation that they hadn't done anything regarding the issue until then," Michaeli said. The effort partially paid off, however, when a social worker began working part-time in the center.

The Health Ministry said in response: "The Health Ministry and the Barzilai Medical Center are making every effort to recruit mental health personnel for work in the periphery, including Sderot."
"It takes between 1-2 years to heal such trauma"
Dr. Benny Fisher, head of the Education Ministry's Administration for Rural Education and Youth Immigration, said at the Be'er Sheva Conference on the Wellbeing of the Child held at Ben Gurion University that about 1,000 children are in therapy because of Operation Protective Edge.

Talia Levanon, Director of the Israel Trauma Coalition, also spoke at the conference and expressed her concern about the future of the children living under trauma. "What kind of adults will they become? They will suffer developmental delays, coping difficulties…these are just some of the reactions that can arise as a result of a situation of ongoing stress."

Zamira Ben Yossef, the principal of a school in the western Negev, added that the educational teams were also in need of care. "A significant number of students and teachers have been in a state of post-traumatic stress for months, which is hurting both their personal well-being and their studies."

Yael Adar, the Eshkol Regional Council Education Department Manager, said that the children living in the council "do not go outside to play, because they always have to be in a protected area. They don't live a normal life."

According to her, in a period of calm, it can take about one to two years to heal trauma. Considering that such conditions do not exist in the Gaza-border communities, there are many cases of children and even teenagers who returned to sleep with their parents, and shower with the door open, despite a conflicting desire for privacy.