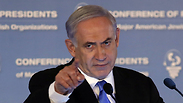 Prime Minister Netanyahu
Photo: AFP
Seeking to draw the heat away from him, Prime Minister Benjamin Netanyahu slammed his rivals in the Zionist Camp, Isaac Herzog and Tzipi Livni, who said on Wednesday they will not negotiate with Hamas.

"The media circus around the Comptroller report is a smoke screen meant to allow Tzipi Livni to infiltrate the Prime Minister's Office," Netanyahu told Likud supporters in Ashkelon. "The reason they're trying to hide her and occupy the public with other things is a good one: Tzipi Livni is a danger to the country."

Meeting with residents from the Gaza border communities on Wednesday, Herzog vowed that if he were to be elected Israel next prime minister he would not "release murderers with blood on their hands and won't negotiate with Hamas."

"In order to change the situation, we need to take initiative, and we will work to promote the demilitarization and rehabilitation of the Gaza Strip," Herzog said. "Netanyahu failed in taking care of security."

Livni also slammed Netanyahu for failing to secure Hamas' disarmament when Israel and the terror group agreed on an internationally-brokered ceasefire.

"There was a proposal that could have prevented the Palestinians from going to the UN, a situation which has put Israel in danger. Netanyahu said yes to Hamas, but we will say no to terror. We will enlist the world and mend out ties with the US," Livni said.

The prime minister asserted that the smoke screen put up by the Zionist Camp serves a double purpose. "It's not only meant to hide her, but also say that she, as she said today, will not negotiate with Hamas.

"Well, she went to Abbas, against my opinion and my specific instruction and the government's decision, to meet with him several days before he signed a unity agreement with Hamas.

"Herzog, her partner, also said he will run to Abbas, who is in a unity government with Hamas," Netanyahu said.

"When Buji (Herzog) and Tzipi run to Abbas after the elections, they will hold negotiations of concessions with him in Ramallah. Their concessions will lead to the formation of a second Hamastan in Judea and Samaria. That's the truth they're trying to hide from the public. We'll make sure this truth is out in the open," the prime minister went on to say.

"That is the true decision (need to be made) in these elections: Buji and Livni heading the left or the Likud under my leadership. Everyone knows who will stand up to Hamas and who will fold to Hamas."

Matan Tzuri contributed to this report.