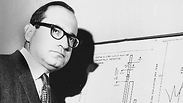 Ernest Sternglass
Photo: AP
Jewish scientist behind iconic moon walk video passes away
After fleeing Nazis, Ernest Sternglass studied in Cornel, corresponded with Einstein, who urged him to move forward with research into what later became an image intensifier that amplified low-light images, permitting the Armstrong moonwalk to be captured on film.
A physicist whose career was highlighted by research that helped capture moving images of the first moon walk has died. Ernest Sternglass, who was born in Germany to Jewish parents, and fled from the Nazis to the US, was 91. Cornell University says Sternglass died Feb. 12 of heart failure in Ithaca, New York.

Sternglass corresponded early in his career with Albert Einstein, who encouraged him to pursue applied physics over theoretical research, and even invited him to his home.

According to the Cornel Chronicle, Einstein counseled Sternglass not to pursue a career in theoretical physics, lest "the originality be crushed out of him."

צילום: NASA

The subsequent outcome of Sternglass' version of the "secondary electron emission" theory led to the development of the television camera tube – the so-called image intensifier – that amplified low-light images.

Cornell explains that Sternglass' research was what allowed NASA contractor Westinghouse to film Neil Armtrong's world famous 1969 moon landing.

He also performed pioneering work in digital X-rays, and worked to reduce the dangers of X-rays while drastically improving the image quality. He worked on medical imaging for many years at the Pittsburgh School of Medicine.

Sternglass fled Nazi Germany with his family in 1938. He earned his bachelor's and master's degrees from Cornell, as well as his doctorate. He is survived by his son Daniel Sternglass, daughter Susan Sternglass and four grandchildren.

The Associated Press contributed to this report.