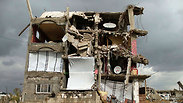 Gazan dwelling
Photo: Reuters
Aid agencies struggling to shelter thousands of Gazans made homeless by war have resorted to building makeshift temporary homes out of metal and wood to evade Israeli restrictions on imports into the coastal territory.

Around 150,000 families are still homeless after last year's war between Israel and Hamas, in which IDF bombardment destroyed thousands of apartment buildings and homes.

Israel tightly limits the flow of concrete, cement, iron bars and other materials into Gaza, as "dual use" items that could have a military purpose if they were seized by Hamas to rebuild tunnels used to launch attacks.




That means few homes have been rebuilt despite international pledges of billions for reconstruction – though only a small portion of the pledged funds has actually been donated.

Rather than wait to rebuild permanent homes, some relief agencies have decided to build temporary structures with materials they can get.

"We designed the transitional shelters without any dual use items so that within the existing restrictions, we could get as many vulnerable families as possible out of the elements," said Matt McGarry, Catholic Relief Services local representative.

His agency has built 70 single storey wooden temporary homes amid the rubble and smashed concrete of Khan Younis, a town in southern Gaza heavily damaged in the July-August war, and has funding for 100 more.

Forty families have moved in so far. While the homes provide a roof over the head amid heavy rain and freezing temperatures, large numbers of people are cramped into a small space that residents say feels like no replacement for the permanent houses that still lie in rubble nearby.

"It is only temporary," said Maryam Baraka, 58, sitting on a plastic chair outside the shelter which now houses 13 members of her family. The rubble of their two-story home nearby has not been cleared away since it was destroyed by IDF bombardment.

For now, rebuilding it is still a dream. "There is no alternative to a brick house," she said.

Israel's restrictions make it a slow and costly process to get hold of the building materials. A bag of cement in Gaza now costs around 100 shekels ($25), four times its usual price.

Those Gazans who can afford to rebuild themselves are cobbling together designs that do not rely on standard building materials.

"The goal was to move quickly into a house to shelter my brother's six children and two wives," said Motasem Dalloul, whose brother has spent around $20,000 building a home out of plaster, metal, wood and the bit of cement he could afford.

"It's built of materials that are easy to find in the Gaza market," he explained, adding that they had borrowed from friends and relatives to pay for the house, near the ruins of the family's old home in Gaza City.

Many homeless Gazans are still living in tents more than six months after last year's war. The United Nations is sheltering more than 10,000 in 15 schools, which residents say are growing more dangerous as months go by with no end to overcrowding. In one such shelter, a nine-month-old baby was burned to death on Monday in an electrical fire.

Imad al-Khaldi, a local construction expert, has come up with a design for a house using widely available materials and has tried to persuade international agencies to adopt it, so far without success.

He has built four homes using sandstone bricks, glued together with plaster. He stood proudly outside one of the buildings, which has already housed a family of 11 for five years. A sign outside reads "temporary residence".