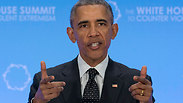 US President Obama
Photo: AP
President Barack Obama called on the world Thursday to confront efforts to use Islam to justify violence, saying Muslim communities in particular have a responsibility to push back on "twisted interpretations of Islam" and the belief that the West is at war with the religion.

With the Islamic State group spreading and terrorists gaining strength in the Mideast and Africa, Obama has sought to use a White House summit this week on violent extremism to urge the world to broaden its response far beyond military interventions.

US airstrikes have managed to blunt some of the militants' gains in Iraq and Syria, but they don't address the extreme ideologies that underpin deadly groups such as ISIS, al-Shabab and Boko Haram.

Obama said there was a complicated history between the Middle East and the West and no one should be immune from criticism over specific policies. "But the notion that the West is at war with Islam is an ugly lie," he said.

"And all of us, regardless of our faith, have a responsibility to reject it," he told the international delegates.

At the summit's closing session at the State Department, UN Secretary-General Ban Ki-moon said the United Nations system will work on a "comprehensive multi-stakeholder plan of action to prevent violent extremism" that will be presented to the General Assembly later this year.

He said that as a first step, he will convene a special event in the next months "that will bring together faith leaders from all around the world to promote mutual understanding and reconciliation."

In his speech, Obama vowed that "in Iraq and Syria, our coalition of some 60 nations, including Arab nations, will not relent in our mission to degrade and ultimately destroy ISIL," referring to the Islamic State by one of its acronyms.

But he also urged delegates from 65 countries to "confront the warped ideology" espoused by terror groups.

"These terrorists are desperate for legitimacy and all of us have a responsibility to refute the notion that groups like ISIL somehow represent Islam, because that is a falsehood that embraces the terrorist narrative," Obama said.

"Muslim communities, including scholars and clerics, therefore have a responsibility to push back not just on twisted interpretations of Islam, but also on the lie that we are somehow engaged in a clash of civilizations," Obama said.

Ban touched on similar themes.

The UN chief noted that the vast majority of victims of Islamic extremists "are Muslims, including women and subjected to rape, kidnapping, sexual slavery and "other unspeakable horrors."

"Violent extremism is not a North-South or East-West issue. It is not confined to a particular region or religion. It transcends borders and is present across the world," Ban said.

"Military operations are crucial to confront real threats. But bullets are not the 'silver bullet,'" Ban said. "Missiles may kill terrorists. But good governance kills terrorism."

US Secretary of State John Kerry said countries needed to strengthen civil society and reach out to community leaders to promote tolerance and peace, and to confront economic inequality that makes it easier for militants to recruit.

Over the next few months he said the United States and other countries would take the battle to classrooms, houses of worship and vulnerable communities around the world.

"You have to do everything. You have to take the people off the battlefield, who are there today," Kerry said. "But you're kind of stupid if all you do is do that, and you don't prevent more people from going to the battlefield," he added.