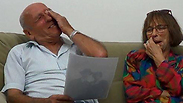 Bodner with genealogist Ayana KimRon upon discovering his family
At the age of 74, after an extraordinary personal journey in which he discovered his real name, the relatives he never met, and his parents' identities, Holocaust survivor Menachem Bodner – known as one of the Mengele twins, on which the notorious doctor conducted his cruel experiments -- passed away on Wednesday.

Bodner, once Auschwitz prisoner A7733, began searching for his twin brother Jeno ("Jolli"). The search, which Ynet followed over the last two years, moved forward with the help of genealogist Ayana KimRon, who took on the mission of locating Bodner's lost roots.

Not Alone

Menachem Bodner, a twin survivor of the Mengele experiments, lost his entire family when he was just a little boy. He is still searching for his twin brother, but recently found his first cousins in California thanks to a persistent genealogist.

The search resulted in many revelations about Bodner's life. He was born Elias Gottesman in the Mukacheve area in Hungary's Carpathian Mountains. Three weeks ago, he returned to Nazi death camp Auschwitz-Birkenau for a ceremony commemorating the 70th anniversary of its liberation by the Red Army, when he was four years old. After his return from the ceremony, Bodner had a severe stroke, and he died in a hospital on Wednesday.


Bodner's journey in search of his roots began on a Facebook page with the title "Auschwitz searching for his twin brother Jeno, A7734", which went online in April 2013. KimRon contacted Bodner after seeing the page; after an extensive search through documents and cross-checking, she discovered genuine information about Bodner's identity.

"I remembered being called Mendeleh, and I know my twin brother also survived," Bodner told Ynet in April 2013. "My spouse kept pushing me to look for him, but I didn't know where to begin. I told her I had no clue -- that I didn't even know who I was." He said the details he had about his past were few and confusing – mere fragments of childhood memories and terrible nightmares.

On the day of his wedding, Bodner revealed, his father told him that he was adopted. "He said he met me on the day the Nazis left the camp. I came out of my hiding place in a barrack and asked if he would be my father, and the stranger, who had lost everything he had, decided to take me with him. He picked me up. I remember a bright flash of light, and I walked out into the light. I remember burning plans outside and a partly destroyed stone wall."

Thanks to KimRon's research, Bodner found relatives living in Israel. His story was then picked up by media outlets, which led to an offer of help from American company that specializes in DNA testing. The results revealed cousins living in the United States, who provided pictures of Bodner's parents, whose faces he could not remember from his time in Auschwitz.

"To find out that you suddenly have another 70 people, maybe more, who are family makes me happy," Bodner told Ynet two years ago. "People ask after me, I ask after them, and we happily get together."

"I lost a comrade and a beloved man. We went a long way together, and had many accomplishments," said KimRon, who accompanied Bodner in his hunt for answers. "It brings me great pain that we couldn't find the lost brother, who Menachem believed was still alive."

The genealogist said that Bonder has haredi relatives and, after she helped track them down, they were able to be present to say Kaddish. "If there's anything to comfort us tonight, it's the knowledge that we did everything we could."