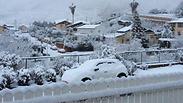 Residents of the southern Israeli city of Be'er Sheva rejoiced on Friday morning after snow piled up in the desert city for the first time in years. "It's an amazing experience that comes once in 20 years - it's simply fun. A snow storm like this has not been seen since 1992, it's just amazing," said one resident.

Residents of Jerusalem, Safed and the Golan Heights are used to seeing snowfall at least once a year, but in other cities, such as Be'er Sheva in the south, snow only arives once a decade - if at all.

The winter storm began on Thursday, with residents of Jerusalem and the Golan Heights waking up to dozens of centimeters of snow on Friday morning.

The snow piled up in Jerusalem, Abu Ghosh, Ariel, Gush Etzion, Kiryat Arba, the upper Galilee and the Golan Heights. Snow also hit Druze villages in the Carmel region, the University of Haifa, Karmiel, and Ma'ale Gilboa, along with Kiryat Shmona and the Hula Valley.

School was closed in areas with heavy snowfall. Furthermore, the airport in the northern city of Rosh Pina was shut down with the exception of emergency helicopter landings.

In Jerusalem, 25 centimeters of snow packed up through out the city and up to 30 centimeters piled up in the northern Golan Heights. The snow even hit the southern Israeli city of Be'er Sheva – with a light downfall reported in the area.

In Tel Aviv and surrounding cities in central Israel, hail came down hard overnight.

Roads leading to Jerusalem were blocked from traffic due to the snow, and traffic in Jerusalem was suspended until the snow is cleared from the streets. Bus lines also ceased to run in Jerusalem – except for a few lines that reach the train station.

The Meteo-Tech meteorological website forecasted Friday to be rainy, cold and stormy throughout Israel, with a danger of flooding. Snow will continue to fall on Friday in mountainous regions in northern and central Israel until the afternoon. Precipitation is forecasted to weaken on Friday afternoon in the north, while rain and snow will continue to come down in central and southern Israel.

There is a danger of flooding in rivers in the east and south regions.

Overnight between Friday and Saturday, rain is expected to strengthen and continue. The Mediterranean Sea will be stormy and waves will be rough – with an expected height of 400-600 centimeters on the coast.

On Saturday, rain will continue until the afternoon in the north, center and Negev region. There is a possibility of snow continuing to fall in the northern mountain region. A slight rise in temperature is forecasted for Saturday; however, the temperatures will still be colder than usual for the season.

On Sunday, a significant rise in temperature is expected and on Monday the rise in temperature will continue – with temperatures becoming unseasonably high.

Roi Yanovsky and Elior Levy contributed to this report.