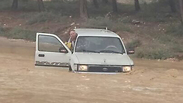 Vehicle stuck in flooding in Yeruham Lake
Photo: Yaniv and Omer Aputa
Two civilians whose vehicle got stuck in the flooding from HaBesor Stream in southern Israel found themselves in need of assistance from an IAF helicopter and police divers on Saturday.

Around 2pm, Southern Police's Negev Mountains rescue unit was called up to help two civilians whose car was stuck in a flood in HaBesor Stream on Route 222.

"Two guys from central Israel who thought they could cross the (flooded) road with a 4x4 (vehicle) arrived at Route 222," said Advanced Staff Sergeant Major Itzik Dahan.

Daring rescue mission (צילום: רז רפאל, מתנדב יחידת החילוץ)

"They called dialed 100 (for police) and Border Police teams arrived at the scene. When I got there I called in the Negev Mountains rescue unit because this was a life-threatening situation," he continued.

"The divers went into the water and managed to rescue one. With a helicopter they rescued the other," Dahan concluded.

Police closed Route 222 and other roads in the area and urged the public not to try to cross Vadis and running streams, even if it seems passable.

"You don't know when the wave comes. It's a mistake a lot of people make," Dahan said. "You can't know if the road is undamaged, if parts were washed away or even if there's a sinkhole. This kind of behavior could risk human lives."

Meanwhile, residents of Ein Gedi, Neot HaKikar and Ein Tamar have been stuck in their homes for two days now after flooding in streams in the area led to the closure of Highway 90.

"We hope there isn't an emergency because we can't get out," Shahaf Homeri from Ein Gedi said. "The Arugot Stream is completely flooded. All of the streams south of here - Hever Stream and Tze'elim Stream - are flowing in a raging torrent and there's no way we could cross them. We're stuck from north and south, we can't go anywhere. It's just like we're on an island, you can't get to us."

Homeri said he hoped the situation doesn't continue for another day. "We don't have basic supplies so we're in a problem. It's nice for a day but two days or more is problematic."