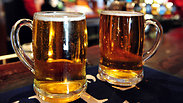 Jerusalem's nightlife spreads to ultra-Orthodox sector (illustration)
Photo: Shutterstock
Jerusalem's nightlife is spreading to the ultra-Orthodox sector: A new bar called "Kretshme" (a public house in Yiddish), located within the allies of the haredi Geula neighborhood, offers visitors meat and the traditional cholent dish alongside beer, wine and other high-quality alcoholic beverages.

The bar, which is open every evening till midnight, has become a big hit among yeshiva students and married couples living in the areas.

Jewish Custom

Clearly, consumption of a strong drink is a powerful part of contemporary Jewish life. But should it be?

The place has undergone an extensive renovation in the past few months. Upon receiving the required permits from the Jerusalem Municipality and Health Ministry, it reopened to become Jerusalem's first haredi bar.

The bar's interior design is mostly made of wood with signs on the walls like in a picturesque Jewish town in Europe, alongside a sort of holy ark. The employees are dressed in traditional Jewish clothing with a cap on their heads.

A friend of the bar's owner, Zissel Cohen, says that after making aliyah from the United States he became involved in the Israeli restaurant business. He studied to become a chef and, upon his graduation, sought to open a bar for the haredi population.

The alcohol sale, which is not common in the haredi sector, was initiated by his older friends who are familiar with the nightlife outside the haredi street.

During the day, the place serves as a restaurant for special meals and events such as circumcision ceremonies. As the night falls, it turns into a kosher bar with authentic Jewish music.

A yeshiva student, who hangs out at the place regularly, says that in the early evening hours the clientele is mostly made up of working people and couples seeking to get away from the daily yeshiva life. Later in the night, younger people arrive to drink beer and other alcoholic beverages.

"We don't call it a bar, because we're not familiar with that word, but it does sell alcohol," he explains.

According to one of the neighborhood's residents, there have not been any violent incidents outside the bar thanks to the sector's restrained drinking habits and the fact that the bar is located in a clear haredi area where visitors are required to keep quiet in the late hours of the night.