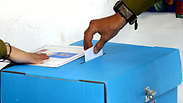 Some voters are still haunted by the bitter memories of Mapai's rule
Photo: Sebastian Scheiner
Veteran citizens, like myself, go out on the street and run into people who want to talk, who wish to say a word, who really want to be heard. You meet them while travelling on the bus, in taxis, in cafés, while walking through the long corridors of the land of shopping malls, everywhere.

And when they reach the issue of the elections, many of them say: It's true that we have not seen such a bad diplomatic, social and economic situation in years, but – and here comes the punch line – I will still vote for the Likud, Bayit Yehudi, Yisrael Beytenu or Shas. There is no other "or" when it comes to this issue. They always mention the right. They will give the right their vote even if it "hit them hard" for years.

Undecided Voter

Op-ed: As a person who cares about the continued existence of the Jewish people and seeks to uproot nationalism from the Israeli society, I have two parties to choose from.

This stance is a matter for sociological research, but it also raises a question which has existed since the Bible era: Is this the syndrome of the slave who says, "I love my master?" And borrowing from a completely different world and in a wild exaggeration, "hunger slaves" who love their oppressors? My answer is yes. I've been there.

And in more detail, yet far from deep intellectual explanations: Many of these voters bring it from their parents' home. From a mother and father who are no longer alive, but they – the members of the second and third generation in Israel – saw their parents and grandparents living in poverty and being persecuted. They shut their eyes and covered their ears while lying in bed at night, hearing their parents cry or complain.

It's true that they now live in Neve Monosson or Givatayim and drive a 2014 Mitsubishi and that their children have graduated from university and their grandchildren produce excellent report cards, but they are still haunted by those memories.

They were raised on stories about the need for a red certificate in order to get medical assistance at the HMO or a job at the municipality, and about the persecution for being members of the wrong party or because of their ethnic descent. The immigrants from the former Soviet Union brought the feeling of persecution from home and joined the persecuted ones here.

They don't believe that this country's previous rulers are better than the current rulers. They tell you: Who brought the Yom Kippur War catastrophe, Menachem Begin? Why he saved us from Iraq's atom bomb. Begin evacuated thousands of Jews from the Yamit region, gave Sinai back to the Egyptians and pursued autonomy for the Palestinians. Well, he must have been influenced by those Mapainiks, Moshe Dayan and Ezer Weizman.

Ariel Sharon expelled thousands from Gush Katif during the disengagement? Well, we always said that he was a Likudnik in a mask. Benjamin Netanyahu was elected prime minister in 1996 because, among other things, he said he would fulfill the Oslo Agreements? Well, he was just seeking attention.

They don't want to forget and don't want to forgive. The Likud has been ruling the country for nearly 35 years, and their hatred towards Mapai has not changed, it has simply changed its focus. The bitter memory appears to be an incurable disease.

So all the strategists and crisis management advisors and media advisors who get a fortune won't help. They must focus on an attempt to convince those young citizens and new immigrants and Israelis who were not raised on hostility towards the other and a feeling of persecution and discrimination, those who have a clean past. We are probably talking about only a few tens of thousands of voters. And a few tens of thousands of voters make all the difference.