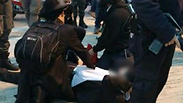 Haredi man stabbed in central Jerusalem
An ultra-Orthodox man was stabbed by an Arab teen in Jerusalem Sunday evening in a suspected terror attack. The incident took place in Safra Square in centeral Jerusalem.
Jerusalem Mayor Nir Barkat was present at the scene with his security guard, who helped subdue the terrorist.
Video: MDA paramedics (צילום: יוסי פרנקל, דוברות זק"א)
The incident took place at around 5:30 pm at Safra Square, adjacent to Jerusalem's City Hall. The victim was a 27-year-old Haredi father of four who sustained moderate wounds and was taken to Jerusalem's Shaare Zedek Medical Center.
Abraham Goldstein, the victim, recalled the attack: "I felt a sharp blow in my stomach. I began shouting that there was a stabbing and that they should move away, then he came to stab me again and I blocked him with my tefilin."
Police forces and MDA paramedics were called to the scene, where the latter administered first aid. The police say that Barkat and his bodyguard witnessed the event, prompting the guard to overtake the stabber and hold him until forces arrived. Police say the stabber is a 18-year-old Palestinian teen from Ramallah who has now been taken in for questioning.
Barkat recalled the event: "I was traveling in a car next to the IDF Square (Safra Sqaure) when my team suddenly saw a terrorist with a knife right next to us. I immediately jumped out of the car together with my team, (my bodyguard) pulled out his gun and together we held the terrorist until security forces arrived; we also attempted to treat the victim."
Barkat tending to victim
There has been a spate of terror attacks in Jerusalem in recent months, mostly carried out by so-called "lone wolf" perpetrators and targeting individuals.
Many of the attacks centered on public transport hubs in the capital, including several attacks in which terrorists plowed into crowds waiting at light rail stops.
The last terror attack in Jerusalem took place six weeks ago when a 21-year-old Jewish man was stabbed by a screwdriver in Jerusalem's Old City.
A 15-year-old Arab from East Jerusalem was arrested in connection with the attack the following day.
The most recent major terror attack in Israel took place last month, when a Palestinian youth armed with a knife stabbed a 12 people on a busy rush hour bus in central Tel Aviv. The terrorist fled and was hunted down by security officials who were in the area.
Elior Levy contributed to this report.