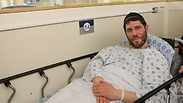 Terror victim Avraham Goldschmidt.
Photo: Alex Kolomoisky
"I want to thank you with all my heart. It was a humane thing what you did," said Avraham Goldschmidt, 27, to Jerusalem Mayor Nir Barkat on Sunday night, during a late-night visit the mayor paid the terror victim hours after he was stabbed in a terror attack in the capital.

Father of four Goldschmidt was walking near Tzahal Square in Jerusalem on Sunday afternoon when Mohammed Said Abu-Etzbah, an 18-year-old Palestinian from Ramallah began stabbing him.

Goldschmidt maintained his composure and managed to block his assailant in every way possible – using his tefillin bag to ward off additional wounds. Barkat happened to come across the attack and subdued the assailant with help from his personal security detail.

Barkat arrived at the Shaare Zedek Medical Center shortly before midnight to visit Goldschmidt. The two men exchanged words and Goldschmidt repeatedly thanked the mayor, wringing his hand in gratitude.

"I yelled 'Stabbing, whoever has a weapon come help'," Goldschmidt told Barkat. "Well done!"

Of the attack, Goldschmidt recalled that he had fought back. "I hit him, I threw my teffilin at him and I kept eye contact with the terrorist the whole time."

The mayor had been waiting in a car at the junction with his office chief and personal security guard when the attack began to unfold. They pulled over and began to run towards the scene of the attack.

According to Goldschmidt, after the attacker began to look for more victims, Barkat and his security guard arrived and bore him to the ground.

"The humane thing you did for me was rather unique - you put a coat over me as I lay down," said Goldschmidt. "It was cold on the ice," Barkat pointed out.

Goldschmidt, who was surrounded by friends and family at the hospital, was overcome with emotion by the mayor's visit and recited a prayer where he asked to be the last person to be hurt in an attack in Jerusalem.

"God willing I will be the last person to be wounded in a terror attack in Jerusalem," said Goldschmidt to Barkat.