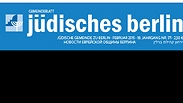 Judisches Berlin, a monthly magazine aimed at the German capital's Jewish community, announced in its latest issue that it would henceforth deliver copies in unmarked envelopes to subscribers, following several anti-Semitic incidents around Europe in recent weeks.

"We made the decision despite the high additional costs in order to minimize the possibility that anyone of our 100,000 customers in the community will feel any hostility," the spokesman for the newspaper, Ilan Kiesling, told Der Tagesspiegel. The magazine, which was launched in 1998, provides information about the Jewish community in Berlin and the rest of Germany.

Furor

Scandinavian country's national broadcaster publicly apologizes, wipes question from interview recording in its digital archive.

"The Israelis in Berlin are attacked just for being Israeli Jews," Berlin Jewish leader Gideon Joffe wrote in the newspaper. "We are not yet at the stage – and I stress that it's not yet – where Jews are murders in Germany only because they are Jews. But steps are being taken to protect the rule of law in German democracy."

According to Joffe, members of the Jewish community are cooperating with the German Ministry of the Interior and police in efforts to increase citizens' sense of security. On New Year's Eve, Shahak Shapira, a 26-year-old Israeli, was beaten by a group of men on the underground railway after he asked him to stop singing anti-Semitic songs.

The World Jewish Congress condemned the attack said the incident illustrated the growing exposure of Jews to violent forms of anti-Semitism in Europe.

"Just like everybody else, Israeli citizens have a right to live in Europe in safety, without being singled out on the basis of their nationality or faith," WJC Associate Executive Vice-President Maram Stern said.

Berlin police said there was no rise in anti-Semitic attacks in the city in 2014, but that heavy security is still placed at Jewish schools, cemeteries, and institutions. FolAfter recent attacks in Copenhagen and Paris, German Chancellor Angela Merkel emphasized the importance of Jewish life in Germany, and urged Jews to stay in Europe.

Earlier this month, leading Jewish groups criticized the German government for creating a new commission on anti-Semitism without including a single Jew.

Julius Schoeps from the Moses Mendelssohn Center for European-Jewish Studies called it "a unique scandal" that the Interior Ministry didn't include any Jewish scientists or community leaders on the commission it created to fight anti-Semitism and support Jewish life in Germany.