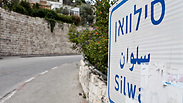 Palestinian neighborhood of Silwan in East Jerusalem
Photo: Noam Moskovich
The East Jerusalem powder keg
Despite reports of a significant reduction in violence around Jerusalem, a tour taken by Ynet of the seam line reveals a front threatening to explode. 'There's only an illusion of quiet; if we don't provide the stone-throwers with education, we will see a different Jerusalem'.
The stabbing attack that took place Sunday at Safra Square in Jerusalem, in which one man was moderately wounded, reminded residents of Israel's capital just how volatile their reality can be – and to what extent one's personal security can be undermined, at times within seconds.

The Jerusalem municipality and police recently reported a significant decrease in the number of violent incidents, an issue that mayor Nir Barkat also stressed during a joint press conference with Prime Minister Benjamin Netanyahu. Despite the statements, the situation on the ground is markedly different: Incidents of stone-throwing, firebombs and firework attacks continue to occur on a daily basis in the seam line neighborhoods. Attacks on the Light Rail have also become commonplace experience for some residents.

כתב: רועי ינובסקי, עריכה: אסף קוזין צילום: אלי מנדלבאום

"Now it's quiet, but it's only an illusion of calm, which is the most dangerous kind," says Daoud Siam, a resident of the East Jerusalem Arab neighborhood of Silwan. According to him, if the authorities and government do not provide long-term solutions to East Jerusalem, the chance of escalation is high.

"Our children live in the bottom of the barrel. They don't have a 'certificate of honesty' (a police document required for job application in some workplaces) because they were arrested for (throwing) stones. Is there a boy in East Jerusalem who wasn't arrested over stones?"

Siam says that the problems in East Jerusalem stem from neglect and deprivation on the part of the authorities, and difficulties in obtaining building permits.

"There's no deterrence here – you arrest someone for a year, two years, three or four, so what? He'll get out of prison, who will accept him for work? Is there anything in East Jerusalem?

"This child, whose house you are destroying, you are turning him into a criminal, and he will end up joining the Islamic State because you threw him into the streets. If we don't take care of this now and provide them proper education, it will be too late. You will see an entirely different East Jerusalem."

Those who likewise do not feel a sense of calm are the Jewish residents of the Ma'ale ha-Zeitim neighborhood, near the neighborhood of Ras al-Amud. The hundred families living here suffer almost daily from stone-throwing, along with the hurling of Molotov cocktails and fireworks. The fire was even directed several times at a local kindergarten while it was in use.

One of the residents, Kobi Goldstein, was attacked two weeks ago on his way home to Ma'ale ha-Zeitim by dozens of Arabs. He rejects the claims made by Silwan residents. "It's possible that children here are frustrated as well and want to throw stones. Here, they are arrested."

The Jerusalem municipality stated in response: "Our consistent position is that there are zero excuses for violence, and no one is permitted to take the law into his own hands, and the punishment will continue in full force…the Jerusalem municipality has been working during Barkat's term in an unprecedented manner to close the gaps in the Arab neighborhood in all fields of life, including in terms of infrastructure, education, welfare, planning and construction and more, combined with a constant increase in the budgets and a constant increase in the satisfaction of the residents as shown in surveys and studies."

The municipality further reported that "the steps were taken after 40 years of neglect from the governments of Israel, and are unprecedented in scope and budget. Additionally, a longer school day program in the eastern part of the city was recently launched at the initiative of the mayor, and will run until 6 pm."

Jerusalem police said: "For the past several months, we have operated a headquarters that includes reinforced security forces in East Jerusalem…In addition to the visible work of the district and the headquarters, special units of the Jerusalem Border Police have been conducting undercover operations. This is all in addition to the high quality intelligence that leads to the arrests of those who violate order, as well as arrests of culprits on the ground."

The police further noted that "in recent months, dozens of people who violated order were arrested and hundreds of indictments were filed. All this activity has led to a significant reduction in violations and the Jerusalem police will continue to work with determination and show zero tolerance towards any attempt to disrupt public order, in order to deliver the criminals to justice."

Elior Levy

contributed to this report.