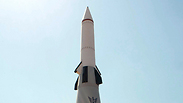 The Defense Ministry announced Tuesday that trials conducted over the past five months for the Arrow 2 and Arrow 3 missile interceptors were designated as failures.

The Arrow 2 was tested in September while the third iteration of the defense system was launched in December.




After the Arrow 2 trial, senior defense officials were unable to determine whether the interceptor hit the test missile. Russian media reported the missile fell in open water, some 300 kilometers from the beaches of Tel Aviv. At the time, senior security sources said the Russian reports were "inaccurate."

The official debriefing of the trial showed the interceptor passed close to its target but did not make contact. The defense establishment spent several weeks unraveling the reason for the mishap. After dozens of scientists were called up to analyze the error, officials were told the problem was solved.

Three months later, Israel tested the Arrow 3 interceptor; defense officials told Reuters at the time the launch was never conducted because of a failed attempt to lock on to the target missile.

The Defense Ministry then released an official statement claiming the conditions were not ripe for launching the interceptor and the decision was taken to change the parameters of the test to the a trial of the target missile.

However, now sources at the Defense Ministry's Administration for the Development of Weapons and Technological Infrastructure – responsible for all active-protection systems intended to counter missiles and rockets – define it as "NO TEST," meaning the radar system picked up the targeted missile as planned, transferred the data to the firing center, but the decision to launch the interceptor was rejected due to "safety concerns."

The aerial defense sector showed dramatic improvement in 2014 with the Iron Dome missile interceptor system excelling at stopping missiles at both longer and shorter ranges then initially planned. The procurement process for the missile defense platform will continue beyond the 10 operational batteries in service today.

The Arrow system is a central component of the multi-layered defense shield around Israel, the development of which is the responsibility of the aforementioned Defense Ministry department. The shield consists of the Iron Dome, David's Sling (currently in development), the Arrow 2, the American-built Patriot system, and the Arrow 3.