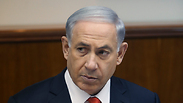 Prime Minister Benjamin Netanyahu
Photo: Alex Kolomoisky
Netanyahu snubs Dems as Rice warns US speech 'destructive' to Israel ties
Netanyahu declines US Democrats' invitation for meet during controversial US visit, citing fears of fanning partisan flames as National Security advisor slams Congress speech as 'not only unfortunate… but destructive' to Israel-US ties.
National Security Advisor Susan Rice warned Wednesday night that Prime Minister Benjamin Netanyahu's planned address to the US Congress is "not only unfortunate" but "destructive to the fabric" of Israel-US ties.

Meanwhile, Netanyahu rejected an invitation to meet with two Democratic senators, citing fears it would further fuel claims that his speech was turning Israel and the looming nuclear deal with Iran into a partisan issue.

Republican congressional leaders broke diplomatic protocol by consulting neither the White House nor Democrats in Congress before inviting Netanyahu to address a joint meeting of the House of Representatives and Senate.

Netanyahu has faced criticism at home and abroad for his decision to address the US Congress two weeks before Israeli elections and at a sensitive point in international negotiations on Iran's nuclear program.

Rice, who spoke with Charlie Rose, echoed such claims of partisanship, and said that the US and Israel have "been fortunate that politics have not been injected into that relationship."

However, she added that in wake of Netanyahu's acceptance of Boehner's invitation to address Congress "two weeks in advance of his election" has "injected a degree of partisanship" into the two countries relations.

"It's always been bipartisan," she added, saying that "We need to keep it that way. We want it that way. I think Israel wants it that way. The American people want it that way. And when it becomes injected or infused with politics, that's a problem."

Meanwhile, Netanyahu declined on Tuesday an invitation to meet with US Senate Democrats during his trip to Washington next week.

"Though I greatly appreciate your kind invitation to meet with Democratic Senators, I believe that doing so at this time could compound the misperception of partisanship regarding my upcoming visit," Netanyahu wrote in a letter to Senators Richard Durbin and Dianne Feinstein obtained by Reuters.

Durbin and Feinstein, two senior Senate Democrats, invited Netanyahu to a closed-door meeting with Democratic senators in a letter on Monday, warning that making US-Israeli relations a partisan political issue could have "lasting repercussions."

In his letter, Netanyahu said he agreed "wholeheartedly" that strong ties between the United States and Israel have been built on bipartisan support. "I also fully understand the importance of bipartisan support for ensuring that our alliance remains strong in the future," he wrote.

He expressed appreciation for the opportunity to address lawmakers from both parties on Tuesday and said he regretted that the invitation has been perceived by some as partisan.

"I can assure you my sole intention in accepting it was to voice Israel's grave concerns about a potential nuclear agreement with Iran that could threaten the survival of my country," Netanyahu wrote.

He said he would be glad to address a bipartisan meeting of senators during a future visit to Washington. Spokesmen for Durbin and Feinstein could not immediately be reached for comment.

Secretary of State John Kerry is defended the Obama administration's nuclear negotiations with Iran on Tuesday during a foreign appropriations committee meeting, saying the US policy is to prevent the Iranians from getting atomic weapons.

Kerry told Congress on Tuesday that the administration's policy is that "Iran will not get a nuclear weapon." He said opposition to a potential deal is misplaced because it is coming from people who don't know what an agreement might look like – an indirect jab at Netanyahu and a reiteration US government claims that Israel has "cherry-picked" information from the Iran talks and incorrectly represented them.

"Anybody running around right now jumping in to say, 'Well we don't like the deal,' or this or that, doesn't know what the deal is." Kerry added, "There is no deal yet, and I caution people to wait and see what these negotiations produce."

Kerry spoke a day after returning from the latest round of talks with Iran. US and Iranian officials reported progress on getting to a deal that would clamp down on Tehran's nuclear activities for at least 10 years but then slowly ease restrictions. Negotiators are rushing to try to meet a March 31 deadline for a framework agreement.