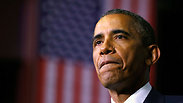 US President Obama
Photo: Reuters
The White House said on Wednesday that reducing the US-Israel relationship to two political parties is "destructive" to the bond between the countries, clarifying previous comments made by President Barack Obama's national security adviser.

National Security Adviser Susan Rice said Netanyahu's March 3 speech, which was arranged by Republican congressional leaders, has "injected a degree of partisanship" into a relationship that should be above politics.

"It's destructive to the fabric of the relationship," Rice told the Charlie Rose show Tuesday. "It's always been bipartisan. We need to keep it that way."

Rice's statements were among the Obama administration's toughest public criticism of Netanyahu's speech and the negative impact it could have on the close alliances between the US and Israel. The Israeli leader's speech was arranged without the White House or State Department's knowledge, a move the administration blasted as a breach of diplomatic protocol.

Rice's comments came as Netanyahu turned down an invitation to meet privately with Senate Democrats during his trip to Washington, saying such a session could "compound the misperception of partisanship" surrounding his visit.

"I regret that the invitation to address the special joint session of Congress has been perceived by some to be political or partisan," Netanyahu wrote in a letter to Sens. Dick Durbin, and Dianne Feinstein. "I can assure you that my sole intention in accepting it was to voice Israel's grave concerns about a potential nuclear agreement with Iran that could threaten the survival of my country."

US officials believe Netanyahu's trip is aimed primarily at derailing a nuclear deal with Iran, Obama's signature foreign policy objective. While Netanyahu has long been skeptical of the negotiations, his opposition has increased over what he sees as Obama's willingness to make concessions that would leave Iran on the brink of being able to build a nuclear weapon.

The White House has been weighing ways to counter Netanyahu's address to Congress, as well as separate speech to the annual policy conference of the American Israel Public Affairs Committee. The administration is still weighing whom to send to the conference, with some officials pushing for a lower level representative than normal.

There are no plans for Obama to meet with Netanyahu next week, with the White House officially citing its practice of not engaging with world leaders in close proximity to elections. Israel's elections are set for March 17.

Vice President Joe Biden and Secretary of State John Kerry will be traveling abroad on trips that were only announced after Netanyahu accepted lawmakers' invitation to speak to Congress.

More than a half-dozen House and Senate Democrats have said they will skip the speech, calling it an affront to Obama and the administration as they engage in high-level negotiations with Iran over its nuclear program.