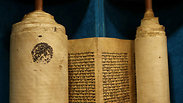 Anciet Torah scroll found by Revolutionary Guards' unit (illustration)
Photo: Alex Kolomoisky
Iran's Basij (volunteer) force has returned a stolen Torah scroll to the local Jewish community, the Fars News Agency reports.

The ancient hand-written holy book, which was stolen from a synagogue in the southern Iranian city of Shiraz, has been described as invaluable. It was found and returned to the Jewish community in an official ceremony on February 11, which according to Fars is a symbolic date for the Iranians – the "anniversary of the victory of the Islamic Revolution."

Religious Minority

For leaders of Islamic Republic's small Jewish community, memorial raised in Jewish cemetery in south Tehran is a welcome sign of openness from authorities despite continued concerns over discrimination.

According to the report, the ancient book was found by the Basij volunteer units, which receive their orders from the Iranian Revolutionary Guards and supreme leader Ayatollah Ali Khamenei.

During the official ceremony marking the Torah scroll's return, the representative of the Iranian Jewish community at the parliament, Siamak Mareh Sedq, submitted an official letter of appreciation to the Basij commander, Brigadier-General Mohammad Reza Naqdi, saying the force's efforts displayed the respect and value that the Islamic establishment attaches to the divine religions.

"I am bound to extend my deepest appreciation to your colleagues in Fars province's Basij Force for their efforts to discover the hand-written holy Torah that was lost from a synagogue in the city of Shiraz," he wrote in the letter.

The Fars News Agency added that "Iranian officials have always underscored the necessity for respecting all religions and their followers in Iran." Earlier this month, Iranian President Hassan Rouhani's special adviser for religious and ethnic minorities' affairs said that Islam has not allowed its followers to insult any religion and instead has urged them to respect all believers.

According to Western estimates, the number of Jews living in Iran ranges from 8,000 to 25,000. Their situation under the Iranian authorities since the 1979 Islamic Revolution has been fine, but according to Ynet commentator Ron Ben-Yishai, "this situation could change at any moment, as it has in the past.

"The report," Ben-Yishai adds, "is likely a PR move by the regime directed at the West."

Ron Ben-Yishai contributed to this report.