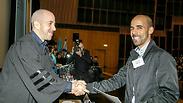 Omer Aloni (right)
Photo: Sebastiaan Vandenbogaerde
Despite calls for an academic boycott against Israeli academic institutions, which have grown louder since Operation Protective Edge, an international academic conference is set to meet Sunday at Tel Aviv University's law school.

The 21st Association of Young Legal Historians, in which about 70 researchers are to participate, will be the first in 20 years to convene outside Europe.

The decision to hold the conference in Israel was made at last year's conference, when Israel overcame Scotland's Edinburgh University, the leading candidate.

"This is a significant achievement," said Omer Aloni, a doctoral candidate in law at Tel Aviv University and one of those who set the plan in motion, "especially in light of the fact that the conference took place in Camridge and that there was an increased British presence among the voters. There was a four vote gap in our favor, out of 70 voters.

"We lobbied through the entire conference and tried to inform about Israel using videos. We prepared a real campaign and explained the importance of holding the conference in Israel, which, in light of its history and the Mandate that was here before its founding, combines different legal systems. If the BDS people had known that we were submitting our candidacy, they probably would have tried to lobby against it and cause provocations to try and hurt our chances."

Political issues continued to permeate the plan after Israel was selected as the host country. "During preparations for the conference, Operation Protective Edge broke out," said Aloni. "During that time, we stopped our activities and waited until a month after the operation ended out of fear of repercussions."

"After any military incident, there is an increase, especially in Europe, in boycotts of Israel," said Ran Bar-Yoshafat, who was head of the team fighting against BDS in the Jewish Diplomatic Corps.

Bar-Yoshafat added that support for an academic boycott has been spreading to more and more universities in the United States, and that in Europe it has become a significant phenomenon.

"There is actually no umbrella organization in charge of boycotts against Israel," said Bar-Yoshafat. "There are localized activities, mainly centered in South Africa, England, Scotland, Ireland, France, Washington State, California, and New York."

He said Israeli students and Jews around the world are making extensive attempts to eradicate the phenomenon.

"Each year scores of students from Europe and North America contact us to report boycott events on campuses, which are ostensibly 'anti-Israel' and during which Jewish students are attacked physically and verbally," said Ido Daniel, head of the program against anti-Semitism in the National Union of Israeli Students.

"In some incidents their property is vandalized, and pressure is put on the institutions themselves to cut research ties with Israeli institutions or to discriminate against Israeli researchers on the basis of nationality. We document all the incidents and make them public, because exposing these cases is the best cure."