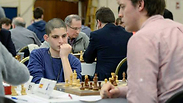 Westreich at competition
Photo: Yoav Nis
The 2015 European Individual Chess Championship in Jerusalem kicked off with a bang Wednesday with 17-year-old Itay Westreich defeating Israeli chess grandmaster Victor Mikhalevski (46).
The young opponent, who lives in Matan, a communal settlement in central Israel, won the championship's first round, a victory that came as a shocking surprise to those in the Israeli chess world.
Life Lessons
Op-ed: Chess can teach Israeli leaders, citizens to think long term, use wisdom instead of force
Mikhalevski, born in Belarus, is the current Israeli champion and was a member of the bronze medal winning Israel team for the 39th Chess Olympiad in 2010.
Commenting on his victory, Westreich told Ynet: "It came as a complete surprise. This was the first time I played against a player at his level. It's an amazing feeling. I'm getting praise from all over, I did not experience anything like it throughout my entire career."
Weistreich has been playing chess since kindergarten and had only won small competitions up until Wednesday's championship. "My mother taught me how to play and that's where I got my love for the game," he said, adding: "I want to advance and aim as high as possible."
The European Individual Chess Championship 2015 has been taking place at the Jerusalem Ramada Hotel in Jerusalem, with 248 participants from 33 countries, including 112 grandmasters, seven of whom are former European champions. Among the participants are 100 Israelis.