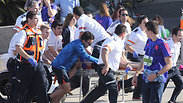 MDA paramedics evacuating runners
Photo: Oren Aharoni
The Tel Aviv Marathon was halted on Friday at approximately 10:00 am due to unseasonably hot and dry weather conditions that sent two runners to the hospital and injured 75 others.
The marathon organizers decided to stop the race after temperatures reached 28 degrees Celsius. Earlier Friday, Magen David Adom paramedics administered medical care to a 30-year-old man, performed CPR on the scene and transferred him to the first aid tent at the starting point. He regained consciousness, but was later taken to the Tel Aviv Sourasky Medical Center where he is in serious condition, sedated and ventilated. An hour later, another man in his 30s also collapsed due to heat stroke. He was also taken to the hostpital, where he is sedated and ventilated. Seventy five other participants were treated on the scene.
A senior paramedic for Magen David Adom, Uri Gelbstein, said: "The man arrived at the first aid tent with no pulse or respiration and CPR was performed on him. Medical teams continued administering CPR until he reached a state of consciousness and regained a pulse. He has a high body temperature and may be suffering from heat stroke. He also may be suffering from an irregular heartbeat."
Earlier Friday, it was reported that four people were lightly injured with bruises, one of whom suffered from muscle pains and was evacuated to the city's Sourasky Medical Center. The winner of the marathon is William Kiprono from Kenya, who set a record of 2:10:29 hours. Kiprono, who won a cash prize of $15,000, said: "I'm happy, I finished in the time that I wanted."
Galit, a resident of Shilat, a community near Modi'in, who participated in the 10km race, said she felt dizzy upon reaching the finish line, and required medical care. "I felt a bit dizzy at the end but I'm fine. The weather was great, it was hotter in the last three kilometers."
Today was the hottest day of the year so far, with a high of 29 degrees expected in Tel Aviv in the afternoon hours. Earlier temperatures were recorded in the morning hours.
The 42.195 km long route was due to end at the Ganey Yehoshua Park and encompassed several diverse parts of the city from the upscale Rothschild Boulevard which is lined with trees and historic Bauhaus architecture to the Azrieli skyscrapers and Jaffa's historical port.
Magen David Adom paramedics recommended runners eat a full breakfast before the run, and consistently drink water throughout the day, which is forecasted to be unseasonably hot and dry. Two years ago a 29-year-old marathon runner died and a dozen others suffered from heat strokes during the annual run.
Additional sports events surrounding the marathon were a 10km and 5k race and a hand-cycle race.
Leading international athletes have arrived in Tel Aviv, many record-holders from other global competitions, and tried to compete among the Israelis for first place.
Gilad Morag and Oren Aharoni contributed to this report.