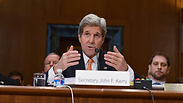 Kerry at senate hearing discussing Iran.
Photo: AFP
Negotiations on an agreement to curb Iran's nuclear program have advanced substantially, but difficult issues remain and a senior US official said he did not expect a deal in the coming week.

US Energy Secretary Ernest Moniz will join in talks next week between US Secretary of State John Kerry and Iranian Foreign Minister Mohammad Javad Zarif in Montreux, Switzerland, the official told a small group of reporters.

"Obviously, the negotiations have advanced substantially, gaps have narrowed, but we really don't know if we will be able to close a good deal," said the official, who asked not to be named. "There are still difficult issues. There are still gaps."

The United States and five major powers are seeking a deal under which Iran would restrain its nuclear program in exchange for the gradual easing of economic sanctions that have crippled the oil exporter's economy.

Washington and some of its allies believe Iran is seeking to develop an atomic bomb, which they regard as a direct threat to Israel as well as to Arab allies of the United States. Iran says its program is solely for peaceful purposes such as power generation.

The two sides are working toward a deadline of the end of March, by which US officials have said they want a political framework agreement in place. That would be followed up by a full, technical deal that would be spelled out by June 30.

Asked if a political deal was possible in the next week, the US official replied: "I would not expect in the coming week."