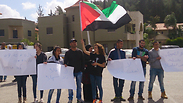 Protest in Wadi Ara.
Photo: Mohammad Shinawi
A protest broke out Saturday afternoon in the majority Arab-populated area of Wadi Ara in Israel's Haifa district as a response to a visit by Zionist Union leaders Isaac Herzog and Tzipi Livni.

The protesters, which included members of the secular Palestinian "Members of the Homeland" movement (Abnaa el-Balad), called out against the two politicians and waved Palestinian flags.

The protesters also carried signs that read "Zionist Union – Radical right-wing," and "You are the enemy of the Palestinian nation." The group shouted at Herzog and Livni to leave the town and during the protest a fight broke out between the protesters and Arab Zionist Union supporters at the scene.

The protestors reportedly spat at the pro-Herzog and Livni supporters, a group of Arab Israeli citizens.

Israeli police forces were at the scene of the scuffle and arrested three protesters who identify with the "Members of the Homeland" movement, including the group's leader Raja Aghbaria.

One man who took part in the protest said: "We do not want anyone from the Zionist Union to come here. They are accomplices to murders against the Palestinian nation."

"Unfortunately we are seeing people from the Arab sector supporting the racist Zionist Union who will operate against the Palestinian nation and the Arab sector in the future. We call on everyone who supports them to leave them and think of a different political route that could benefit us," said the protester.