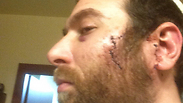 Eldar Hughes, a 31-year-old man from Kfar Saba, was attacked Saturday night by unknown assailants near a Chabad House in the town. "I managed to hear (the perpetrator's) friend yelling at him in Arabic 'no, no', but he didn't listen to him," Hughes said, saying that the man then "shouted 'Allahu Akbar', struck me in the face with a bottle, got in the car and fled the scene."

Police said the attack was not nationalistic in nature and are searching for the suspects.

Hughes required stitches in his face and in contrast to the police, has no doubt that the attack had a nationalistic background. "We were eating a Shabbat dinner, and when we finished, at around 11 at night, I left the house and headed home. I'm a religious man who wears a kippah and prayer tassels. When I arrived at the crosswalk on Weizmann street, I started to cross the road during a green light.

Hughes said that the attacker was in a car near the crosswalk. "While I was crossing the street, the driver slammed down the accelerator pedal several times, strongly, while the car was in neutral. I got scared from the noise, and thought he was going to run me over. I hurried to cross the street and walked up a traffic island. When I was on it, I told the passengers who didn't stop laughing that it wasn't funny."

Before he managed to say another word, one of those in the car exited with a bottle in his hand.

"I heard he was trying to break it on the curb. His first attempt failed but the second time I heard the bottle break and then he quickly moved towards me."

Hughes, who was wounded in his face by the attacker, managed to move back a few feet where he sparked the attention of bypassers who called paramedics to the scene. Hughes was then taken to a local hospital where he received stitches in his ear and cheek.

"During the attack I just froze," he recalled. "I couldn't move. In retrospect I think that if I would have raised my hand it would have been hurt instead of my face, but I just froze."

The police have opened an investigation, but insist the attack was not nationalistically motivated.

Hughes seems to disagree, saying that during the attack, the assailants never once spoke to him and no argument or verbal altercation preceded it.

He claims that his attacker said "Allahu Akbar" before stabbing him and fleeing the scene: "It is frightening what is happening in this country. You can no longer feel safe anywhere. He attacked me without any provocation on my part and without me even having a chance to say something."